Daily Worship
Having a sense of balance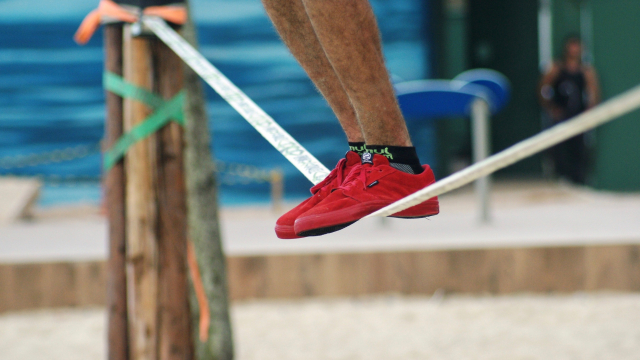 1 Corinthians 1: 10-18 (NRSVA)
10 Now I appeal to you, brothers and sisters, by the name of our Lord Jesus Christ, that all of you should be in agreement and that there should be no divisions among you, but that you should be united in the same mind and the same purpose. 11 For it has been reported to me by Chloe's people that there are quarrels among you, my brothers and sisters. 12 What I mean is that each of you says, 'I belong to Paul', or 'I belong to Apollos', or 'I belong to Cephas', or 'I belong to Christ.' 13 Has Christ been divided? Was Paul crucified for you? Or were you baptized in the name of Paul? 14 I thank God that I baptized none of you except Crispus and Gaius, 15 so that no one can say that you were baptized in my name. 16 (I did baptize also the household of Stephanas; beyond that, I do not know whether I baptized anyone else.) 17 For Christ did not send me to baptize but to proclaim the gospel, and not with eloquent wisdom, so that the cross of Christ might not be emptied of its power.

18 For the message about the cross is foolishness to those who are perishing, but to us who are being saved it is the power of God.
Our scripture reading today warns us about the dangers of creating cliques and personality cults in the church. Cliques manufacture words and phrases which bring about divisions. Jesus reminds us in the Gospels that "a house divided against itself cannot stand".
So how do we deal with our conflicts? When disagreements arise let's take time to honour each other and be careful not to take intrenched positions following one person's point of view. We need to weigh up what is being said and find where the balance is so that the truth creates the equilibrium. Jesus told us plainly the truth itself will set us free. When we discover the truth we no longer need to be bullied by another in order to be accepted into their gang. The truth breaks us free from all unhealthy control groupings, inspiring us to walk in the company of others; always with Jesus at the centre. It is Jesus who becomes our fulcrum giving us a sense of balance.
PRAYER:
Lord,
Show me how to straddle the seesaw
Of words
In the play park of life
When we play 'follow the leader'
Help us to weigh up the truth
Standing in the right position
Finding the fulcrum of words
Shifting our thoughts from side to side
Until we sense the balance
And when the truth outweighs the balance
Give us the courage to make our stand
In such a way that we learn to
live our life with grace filled integrity