Daily Worship
Having a sense of direction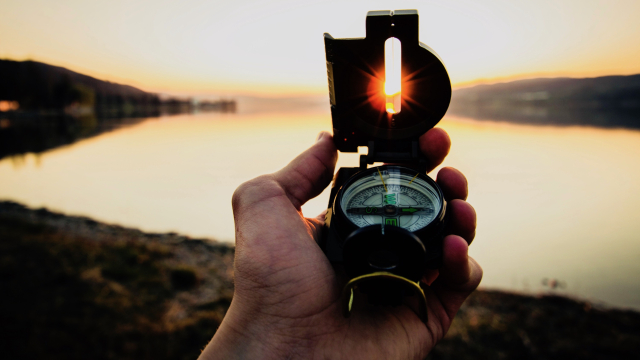 Matthew 4: 17-23
17 From that time Jesus began to proclaim, 'Repent, for the kingdom of heaven has come near.'

18 As he walked by the Sea of Galilee, he saw two brothers, Simon, who is called Peter, and Andrew his brother, casting a net into the lake—for they were fishermen. 19 And he said to them, 'Follow me, and I will make you fish for people.' 20 Immediately they left their nets and followed him. 21 As he went from there, he saw two other brothers, James son of Zebedee and his brother John, in the boat with their father Zebedee, mending their nets, and he called them. 22 Immediately they left the boat and their father, and followed him.

23 Jesus went throughout Galilee, teaching in their synagogues and proclaiming the good news of the kingdom and curing every disease and every sickness among the people.
Having someone beside you with a good sense of direction is a wonderful gift, especially if the person driving has got lost. To know instinctively which way to go when it comes to decisions about our future is another sense all together. Perhaps you find yourself lost at a crossroads in life?
The scripture reading today relates the story of how Jesus called Andrew and Peter to be his disciples. If you read the narrative literally, you ask yourself, what was it about Jesus that he could simply walk by a couple of young fishermen, Andrew and Peter, look them in the eye and say: "Follow me" and the next thing they leave their nets and follow.
You ask was Jesus hypnotising them? As with all scripture it's good to read it in conjunction with other scriptures. If you do you realise from the Gospel of John that Andrew and John had already met Jesus. They had spent a day with him and Andrew had returned telling his brother Simon Peter he had met the Messiah. Now in today's passage the Messiah was in search of him. So when Jesus said, "Follow me", both Andrew and Peter knew who it was who was speaking to them. For them it was to become the greatest adventure of their life.
Jesus still walks by people at their work bench, or reading a computer screen, or loading a truck, or caring for a patient. And while they are at their workplace, he says, "Follow me."
If this is happening to you, my advice is don't miss the opportunity — leave what you're doing and follow him. You ask where will he take me? I can't tell you but one thing I do know: it will never be boring! The thing is when this happens you sense the right direction.
PRAYER:
Lord,
Is it me you're looking at or my brother?
Or is it the both of us?
It's not easy to leave people and things behind
Yet, you seem to know something I don't know
The thing is I sense this is the direction I've to go
It's neither logical, economical, or practical
Yet it is thoroughly comical
Me, out there, following You!
Can I tell you now
My heart is beating faster reading this
You surprised me
I never expected you to turn up at my work
I know who you are
I've met you in church
But now you're standing here
At my desk
Calling me through a screen
Speaking to my whole family
If you call me
They'll all have to go
Lord,
I'm sending you a text
'Yes I'm up for it'
Not next year
Or next week
Right now
I'll start following now!