Daily Worship
Unknown guests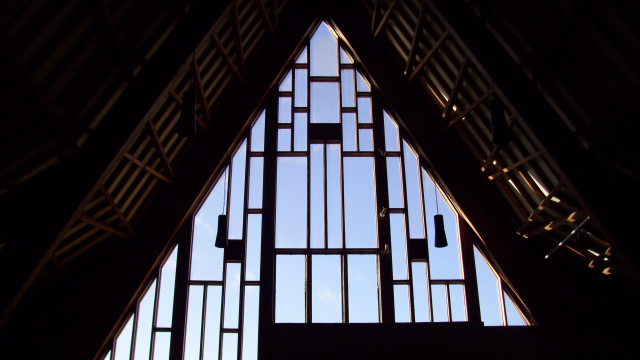 Hebrews 13: 1-2
1 Keep on loving one another as brothers and sisters. 2 Do not forget to show hospitality to strangers, for by so doing some people have shown hospitality to angels without knowing it.
"So, are you willing to welcome strangers as you would welcome Jesus himself, putting their needs before yours and treating each one as a royal guest?" From the Scargill Community promises. Image - Scargill Chapel window.
Hundreds of visitors pass through Scargill House in a year. From this verse in Hebrews you would expect a few angels to have come along to see us, to be found amongst our guests.
Angels in the Bible tend to appear and say: 'Do not be afraid'. We have had times when as a community we have needed to 'hold our nerve,' and believe that the present difficulties will pass. So we choose to believe that by acting generously in a situation, with hope, love, prayer and hard work it will come to a peaceful solution.
Angels are also famous for singing in heavenly choirs. Each day in various places we gather people to sing our praise to God in varying styles. So maybe the angels have turned up there adding harmonies in our midst.
Angels bring messages from God, and there are many words spoken at Scargill in talks, on walks, and around meal tables. Maybe Angels are there joining the conversations, and prodding us to welcome one another with a generous word.
Angels also guard God's people. The homely feel of the House and active care we provide for our guests allows them to relax. Maybe Angels are there amongst us too sharing God's peace.
Holy Spirit,
Help us to willingly give
the welcome that you want
for these pilgrims on their way.
Some may be passing Angels
shining quietly away.
Give us ears to receive their story,
soft hearts to pray for them,
humility to listen
and hear what they need to say.
We'll learn Your ways from them
as they come and rest awhile,
to contemplate anew
their precious life, each day.
Refresh them, Lord, we pray.