Daily Worship
The trumpet's call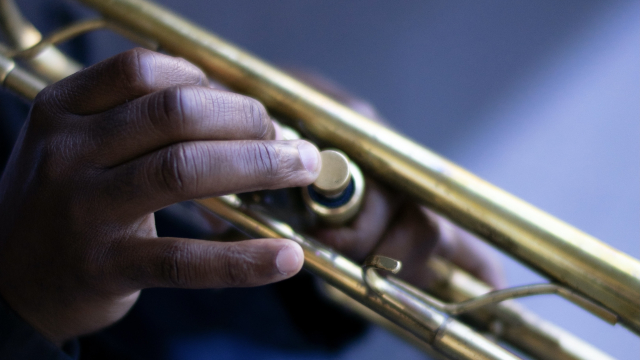 Joel 2: 1-2, 12-16 (NIVUK)
1 Blow the trumpet in Zion;
sound the alarm on my holy hill.

Let all who live in the land tremble,
for the day of the Lord is coming.
It is close at hand –
2 a day of darkness and gloom,
a day of clouds and blackness.
Like dawn spreading across the mountains
a large and mighty army comes,
such as never was in ancient times
nor ever will be in ages to come.

12 'Even now,' declares the Lord,
'return to me with all your heart,
with fasting and weeping and mourning.'

13 Rend your heart
and not your garments.
Return to the Lord your God,
for he is gracious and compassionate,
slow to anger and abounding in love,
and he relents from sending calamity.
14 Who knows? He may turn and relent
and leave behind a blessing –
grain offerings and drink offerings
for the Lord your God.

15 Blow the trumpet in Zion,
declare a holy fast,
call a sacred assembly.
16 Gather the people,
consecrate the assembly;
bring together the elders,
gather the children,
those nursing at the breast.
Let the bridegroom leave his room
and the bride her chamber.
The prophet Joel is brimming with confidence despite disaster that has befallen his people. A plague of locusts has wreaked havoc upon the nation, with clouds and blackness. Parallels with what we today are experiencing as a pandemic.
The prophet's confidence lies in the old confessional formula which the people knew so well from the Psalms in their worship. "The Lord is gracious and merciful, slow to anger, and abounding in steadfast love."
Because God is faithful to His promises, the horizon, though appearing dark and gloomy as night falls, can shine crisp and clear with the Lord's favour, as morning dawns.
The prophet Joel is a wonderful little book, announcing the advent of the Lord's mercy in new and surprising ways, after the turmoil which has gone before.
At major religious festivals in those days, the trumpet was sounded to announce the Lord's favour towards the people. One day soon we will surely return safely to our church buildings. When that day comes we may feel like blowing the trumpet in triumph! But let's remember to do so in humility and in penitence, and pray that the emergence from lockdown may bring a transformation to our view of the Church and the world. As we look to God in hope, we discover that He has been shepherding us throughout and will lead us on to pastures new.
PRAYER:
Lord of light, in your presence, I set aside the worries and concerns of the day. Clear my mind to leave space for your Word. May your love shine in my heart to bring sight, understanding, and faith that you hold all things and all people in your strong, gentle, and caring hands. In Jesus' name. Amen.