Daily Worship
Mary The Revolutionary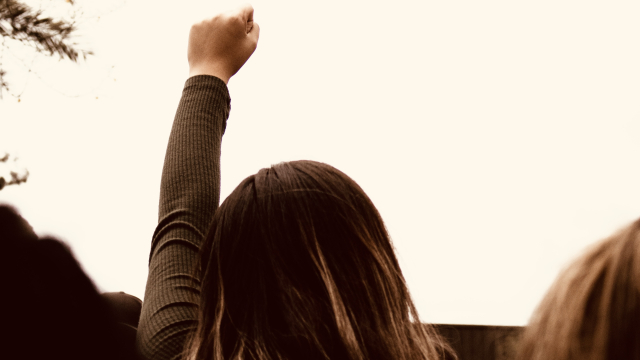 Luke 1: 39-57 (NIVUK)
39 At that time Mary got ready and hurried to a town in the hill country of Judea, 40 where she entered Zechariah's home and greeted Elizabeth. 41 When Elizabeth heard Mary's greeting, the baby leaped in her womb, and Elizabeth was filled with the Holy Spirit. 42 In a loud voice she exclaimed: 'Blessed are you among women, and blessed is the child you will bear! 43 But why am I so favoured, that the mother of my Lord should come to me? 44 As soon as the sound of your greeting reached my ears, the baby in my womb leaped for joy. 45 Blessed is she who has believed that the Lord would fulfil his promises to her!'

46 And Mary said:

'My soul glorifies the Lord
47 and my spirit rejoices in God my Saviour,
48 for he has been mindful
of the humble state of his servant.
From now on all generations will call me blessed,
49 for the Mighty One has done great things for me –
holy is his name.
50 His mercy extends to those who fear him,
from generation to generation.
51 He has performed mighty deeds with his arm;
he has scattered those who are proud in their inmost thoughts.
52 He has brought down rulers from their thrones
but has lifted up the humble.
53 He has filled the hungry with good things
but has sent the rich away empty.
54 He has helped his servant Israel,
remembering to be merciful
55 to Abraham and his descendants for ever,
just as he promised our ancestors.'

56 Mary stayed with Elizabeth for about three months and then returned home.

57 When it was time for Elizabeth to have her baby, she gave birth to a son.
If Hannah (from our key text of the week in 1 Samuel) was mistaken and misjudged, the story of Mary the mother of Jesus takes everything a step further. Here is a young woman of deep faith prepared to believe that the child growing up within her was there by God's miraculous intervention. This is another story of how one person's commitment and belief in her knowledge of God allows her to be used by God in a most spectacular way to change the whole outcome of history.
Mary said, "Yes" to God. She believed God would keep his obligation. He would stand by her, even if family and friends would doubt her. She opens her mouth in praise and adoration to God. Mary uncovers the power that praise brings to the human soul when opened up to magnify God. She sings all that she ever knew or was told about God has come true and more. This is the song of a political revolutionist. Mary, like Hannah hundreds of years before her, realises that it is God who raises up rulers but it is also God who can bring them down. For Mary true leadership is found among the humble.
In the midst of world chaos and people fearing for their lives we need to hold on to our true passports, our kingdom identifiers. Identifying us as people of the Kingdom but also recognising God will have the final word in world affairs.
The Heart to Follow
Lord.
I realise I don't have
The radical edge of the revolutionist
The passion of a reformer
The endurance of a runner
But I do have the heart of a follower
When you ask me to face impossible changes
And when I see them coming
Help me get ready
To say 'yes"
Like Mary
And follow her lead
To speak out for justice in the world
And show compassion to the stranger
And live out love in my family