Daily Worship
Lift my eyes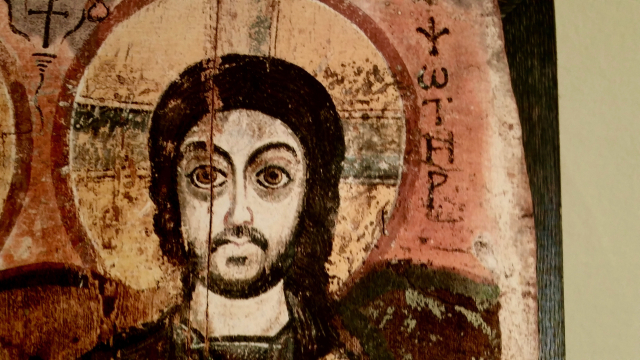 John 17: 1-19 (NRSVA)
1 After Jesus had spoken these words, he looked up to heaven and said, 'Father, the hour has come; glorify your Son so that the Son may glorify you, 2 since you have given him authority over all people, to give eternal life to all whom you have given him. 3 And this is eternal life, that they may know you, the only true God, and Jesus Christ whom you have sent. 4 I glorified you on earth by finishing the work that you gave me to do. 5 So now, Father, glorify me in your own presence with the glory that I had in your presence before the world existed.

6 'I have made your name known to those whom you gave me from the world. They were yours, and you gave them to me, and they have kept your word. 7 Now they know that everything you have given me is from you; 8 for the words that you gave to me I have given to them, and they have received them and know in truth that I came from you; and they have believed that you sent me. 9 I am asking on their behalf; I am not asking on behalf of the world, but on behalf of those whom you gave me, because they are yours. 10 All mine are yours, and yours are mine; and I have been glorified in them. 11 And now I am no longer in the world, but they are in the world, and I am coming to you. Holy Father, protect them in your name that you have given me, so that they may be one, as we are one. 12 While I was with them, I protected them in your name that you have given me. I guarded them, and not one of them was lost except the one destined to be lost, so that the scripture might be fulfilled. 13 But now I am coming to you, and I speak these things in the world so that they may have my joy made complete in themselves. 14 I have given them your word, and the world has hated them because they do not belong to the world, just as I do not belong to the world. 15 I am not asking you to take them out of the world, but I ask you to protect them from the evil one. 16 They do not belong to the world, just as I do not belong to the world. 17 Sanctify them in the truth; your word is truth. 18 As you have sent me into the world, so I have sent them into the world. 19 And for their sakes I sanctify myself, so that they also may be sanctified in truth.
At the Last Supper, Jesus prays passionately for his disciples. He trusts his Father's actions to bless what has been sown in these lives. Seeds that will spring up only after such a depth of grief and sorrow that they are not, even now, expecting. Jesus prays for their protection and unity. Enfolded into the life of the Trinity, these disciples will offer hope to the world.
PRAYER:
Jesus, did you really pray for them in earnest? – it says you did.
Did you really trust your people here on earth to bring your Kingdom in,
To bow the knee, and seek Your face, and trust your way,
And not take up again the rein of controlling power
To tug and pull and push.
The intensity of your prayer is so immense,
I wish I could be half as earnest in my love for those to me entrusted,
To walk beside, help and in turn receive from them.
Bring heaven's Kingdom down to earth
For God is OUR Father.
We pray it regularly – all across this globe.
Do we know its power, or are they half-thought words trickling from our lips,
Us not present to their meaning, the work they do by being said.
Jesus prays now for the Church on earth, each individual soul,
Concerned that the battles we face are not fought alone.
What if we could see this fight, envisioned,
Over every choice we freely make:
for good, for blessing, or self-advancement.
That, clouded, dusts the truth within,
But dimly views your Spirit's light.
Prostrate I fall before the one who accomplished all
In this fight of Good.
Beyond and beyond and beyond,
Your vista opens out to see the heavenly promised land,
where the Lamb's wounded victory is lauded loud.
Holy, Holy, Holy are thee, thrice.
Across all time, eternity, worship will resound.
Lift my eyes, to this horizon.
Capture my heart, to set it free.
Spirit take a hold of me
And open heaven's window.
Pour out the blessing this world needs.
Your Kingdom come on earth,
establish now your rule,
Our prayer, our hearts for You.