Daily Worship -
God's purpose brought about through families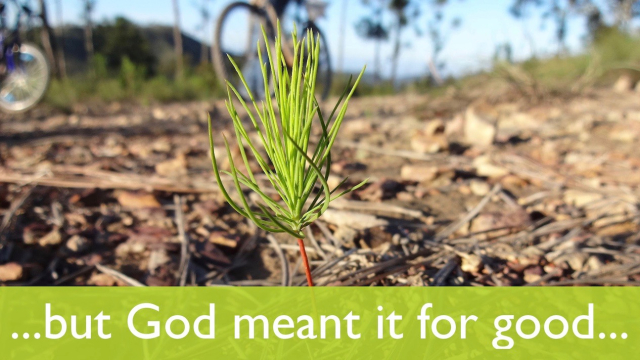 Genesis 45: 25 – 46: 7
25 So they went up out of Egypt and came to their father Jacob in the land of Canaan. 26 They told him, "Joseph is still alive! In fact, he is ruler of all Egypt."Jacob was stunned; he did not believe them. 27 But when they told him everything Joseph had said to them, and when he saw the carts Joseph had sent to carry him back, the spirit of their father Jacob revived. 28 And Israel said, "I'm convinced! My son Joseph is still alive. I will go and see him before I die."

46 1 So Israel set out with all that was his, and when he reached Beersheba, he offered sacrifices to the God of his father Isaac.

2 And God spoke to Israel in a vision at night and said, "Jacob! Jacob!"

"Here I am," he replied.

3 "I am God, the God of your father," he said. "Do not be afraid to go down to Egypt, for I will make you into a great nation there. 4 I will go down to Egypt with you, and I will surely bring you back again. And Joseph's own hand will close your eyes."

5 Then Jacob left Beersheba, and Israel's sons took their father Jacob and their children and their wives in the carts that Pharaoh had sent to transport him. 6 So Jacob and all his offspring went to Egypt, taking with them their livestock and the possessions they had acquired in Canaan. 7 Jacob brought with him to Egypt his sons and grandsons and his daughters and granddaughters—all his offspring.
Another journey, another new home. Even those of us who have experienced many removals have no idea of the real nomadic life – packing up all your possessions, driving all your livestock and transporting all your descendants. How would we cope?
A diminishing number of communities follow the traditional nomadic life, yet our world today is just as full as ever of migrants, wanderers, displaced people, seeking the equivalent of corn in Egypt, a better life for their families.
As we have followed the intricate story of Jacob, his forefathers and descendants, their love, their feuds, their deceptions, their revelations, their fears, their journeys, we find through it all a theme of blessing – the traditional blessing passed from father to son, the blessing and promises of God at Bethel and at Peniel, Jacob's final blessing to his family in Goshen. And last of all, the brothers, seeking forgiveness from the brother they had wronged, receive a gracious reassurance from Joseph –
"Don't be afraid. I can't put myself in the place of God. You plotted evil against me, but God turned it into good, in order to preserve the lives of many people who are alive today because of what happened."
God of grace,
we thank you now for stories and memories
that keep alive for us
your astonishing love and mercy
shown through all the generations.
All our family histories have dodgy chapters –
characters we are glad we never met,
dealings we would rather not know about,
stories we hope are apocryphal.
Then there are the people we would like to have known,
the courageous pioneers who sought a better life,
the generations of devout parents who brought up families in faith,
the stories of love and devotion.
And through it all,
amazing grace –
your justice,
your truth,
your mercy
your mystery,
your love,
your comfort,
your grace,
amazing grace.