Daily Worship
You ARE the man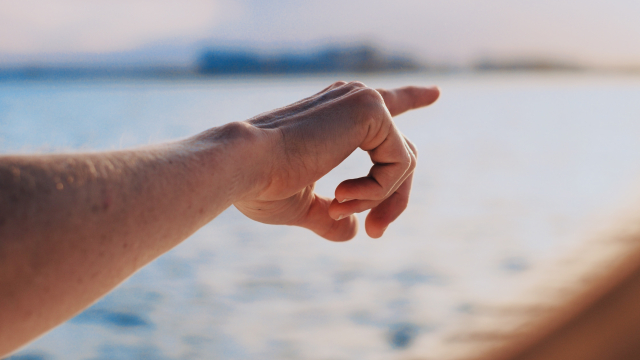 2 Samuel 12: 1-14 (NIVUK)
1 The Lord sent Nathan to David. When he came to him, he said, 'There were two men in a certain town, one rich and the other poor. 2 The rich man had a very large number of sheep and cattle, 3 but the poor man had nothing except one little ewe lamb that he had bought. He raised it, and it grew up with him and his children. It shared his food, drank from his cup and even slept in his arms. It was like a daughter to him.

4 'Now a traveller came to the rich man, but the rich man refrained from taking one of his own sheep or cattle to prepare a meal for the traveller who had come to him. Instead, he took the ewe lamb that belonged to the poor man and prepared it for the one who had come to him.'

5 David burned with anger against the man and said to Nathan, 'As surely as the Lord lives, the man who did this must die! 6 He must pay for that lamb four times over, because he did such a thing and had no pity.'

7 Then Nathan said to David, 'You are the man! This is what the Lord, the God of Israel, says: "I anointed you king over Israel, and I delivered you from the hand of Saul. 8 I gave your master's house to you, and your master's wives into your arms. I gave you all Israel and Judah. And if all this had been too little, I would have given you even more. 9 Why did you despise the word of the Lord by doing what is evil in his eyes? You struck down Uriah the Hittite with the sword and took his wife to be your own. You killed him with the sword of the Ammonites. 10 Now, therefore, the sword shall never depart from your house, because you despised me and took the wife of Uriah the Hittite to be your own."

11 'This is what the Lord says: "Out of your own household I am going to bring calamity on you. Before your very eyes I will take your wives and give them to one who is close to you, and he will sleep with your wives in broad daylight. 12 You did it in secret, but I will do this thing in broad daylight before all Israel."'

13 Then David said to Nathan, 'I have sinned against the Lord.'

Nathan replied, 'The Lord has taken away your sin. You are not going to die. 14 But because by doing this you have shown utter contempt for the Lord, the son born to you will die.'
In an age like ours, when political leaders of world standing seem to have the knack of getting away with murder and I literally mean murder, this particular story is a powerful antidote to those who think they will never be held accountable for their actions. The prophet Nathan visits King David's court and begins to tell the king a story about an injustice in which a rich man used his power to steal from a poor man. David, incensed by the story explodes calling down all sorts of retribution on the rich man, demanding he be brought to justice. Then Nathan the prophet looks at the king and says, "You are the man!" At that moment everything changes for David. He is overcome with shame — his sin has been found out and he hears the judgement of God on his life and his actions. The suitcase of timeless stories has just been opened once more.
We may never know of the Nathans who frequent the corridors of power today, but I believe they are there, speaking truth to power, journalists, dissidents, and prophets, often paying a high price. At a personal level perhaps we need to listen more to those who are not afraid to speak truth into our lives pointing out our hypocrisies causing us to face greater self examination. This story of Nathan also relates to lifestyle. It highlights what preoccupies our mind can shape our actions — what we look at, what we secretly desire shapes our attitude and our spiritual appetite.
Using 'story' as a key shaper for the week's reflections we look at the response of David to his actions explored more fully in this week's readings. Here's a song to reflect upon, Ian Walker singing: Broken Lives Worth Mending.
To Long for Redemption
To be found out
In public
To be shown you have lied
To feel the shame of your sin smarting on your cheeks
To feel honesty has left your lips
And deceit has stolen your tongue
To feel trust has been broken
The love of the innocent betrayed
The bonds of integrity shattered
To stand stripped of all respect
To feel despised and rejected
To feel sorrow drowning your soul
To gasp for breath — heart beating faster
Then —
The enormity of your sin breaks in upon your soul
You hug grief like a friend
Seeing those you love turn away in anguish and heartbreak
To know utter desolation
To stand on the edge of no return
To take the fall
To be the fall
Could this be what it means, to long for redemption?