Daily Worship
A Time to Shine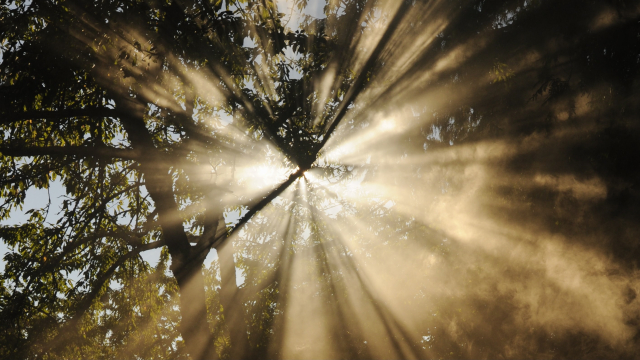 Isaiah 60: 1-6 (NRSVA)
1 Arise, shine; for your light has come,
and the glory of the Lord has risen upon you.
2 For darkness shall cover the earth,
and thick darkness the peoples;
but the Lord will arise upon you,
and his glory will appear over you.
3 Nations shall come to your light,
and kings to the brightness of your dawn.

4 Lift up your eyes and look around;
they all gather together, they come to you;
your sons shall come from far away,
and your daughters shall be carried on their nurses' arms.
5 Then you shall see and be radiant;
your heart shall thrill and rejoice,
because the abundance of the sea shall be brought to you,
the wealth of the nations shall come to you.
6 A multitude of camels shall cover you,
the young camels of Midian and Ephah;
all those from Sheba shall come.
They shall bring gold and frankincense,
and shall proclaim the praise of the Lord.
The prophet Isaiah is extravagant in his visions of God! "Arise, shine, for your light has come, and the glory of the Lord rises upon you!" Can you believe that about yourself? Can you believe that about our beleaguered church? Whatever darkness surrounds us — and without exaggeration Isaiah says that darkness "covers the earth" — the Lord rises like the morning sun and shines on us, like the first shafts of dawn on our faces.
Nelson Mandela spoke of our fear of the light we have. We can choose to live in the shadows of our fears and insecurities, or we can dare to trust that the light of God shines on us, in us and through us. Mandela was a man who had known more darkness than many of us have ever known, but he chose to live in the light of God's light.
This is not some brittle self-confidence that we build up with self-help. This is a deep confidence in the light of God that "lightens every person".
As we face the day, let's turn and face the Light upon us and within us. "Arise, shine, for your light has come!"
PRAYER:
God, Creator of the light,
Morning by morning you bathe us in Your light
Unveiling colour and beauty,
Familiar faces and favourite places.
Light — a silent gift, hidden in plain sight,
Bringing energy to all life.
God, who is Light beyond the light,
In whom there is no darkness at all.
We confess that we often hide in the dark corners of our hearts
Shrouded in shame, gripped by guilt,
Angry at ourselves, afraid of Your light
That would free us to shine for You.
Lord Jesus, Light of the world,
As we seek to follow you more closely
May we learn to walk in Your light
Enjoying life in all in all its fullness
Letting Your light shine in us and through us. AMEN