Daily Worship
Rooted in love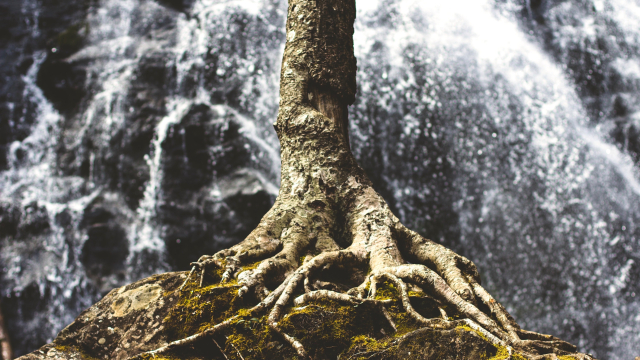 Ephesians 3: 7-21 (GNT)
7 I was made a servant of the gospel by God's special gift, which he gave me through the working of his power. 8 I am less than the least of all God's people; yet God gave me this privilege of taking to the Gentiles the Good News about the infinite riches of Christ, 9 and of making all people see how God's secret plan is to be put into effect. God, who is the Creator of all things, kept his secret hidden through all the past ages, 10 in order that at the present time, by means of the church, the angelic rulers and powers in the heavenly world might learn of his wisdom in all its different forms. 11 God did this according to his eternal purpose, which he achieved through Christ Jesus our Lord. 12 In union with Christ and through our faith in him we have the boldness to go into God's presence with all confidence. 13 I beg you, then, not to be discouraged because I am suffering for you; it is all for your benefit.

14 For this reason I fall on my knees before the Father, 15 from whom every family in heaven and on earth receives its true name. 16 I ask God from the wealth of his glory to give you power through his Spirit to be strong in your inner selves, 17 and I pray that Christ will make his home in your hearts through faith. I pray that you may have your roots and foundation in love, 18 so that you, together with all God's people, may have the power to understand how broad and long, how high and deep, is Christ's love. 19 Yes, may you come to know his love—although it can never be fully known—and so be completely filled with the very nature of God.

20 To him who by means of his power working in us is able to do so much more than we can ever ask for, or even think of: 21 to God be the glory in the church and in Christ Jesus for all time, forever and ever! Amen.
Paul's prayer is that the people, and their intentions and actions, should be rooted in love.
All you need is love.
God is love.
We love him because he first loved us.
Love is the beginning and the end.
Love binds us together.
Perfect love casts out fear.
God so loved the world that he sent us his only son.
Love God, and love your neighbour.
'Simon, son of John, do you love me?' — three times Jesus asked of the man who had denied him three times. Feed my lambs, take care of my sheep, words of love from the Good Shepherd. He gives us responsibility, to be shepherds for each other, in love.
PRAYER
Loving God,
you have shown us your love,
in the most dramatic,
surprising,
humbling way.
Give us grace, we pray,
to feed your lambs,
take care of your sheep,
show your love to all your saints.