Daily Worship
The presence of God in the Son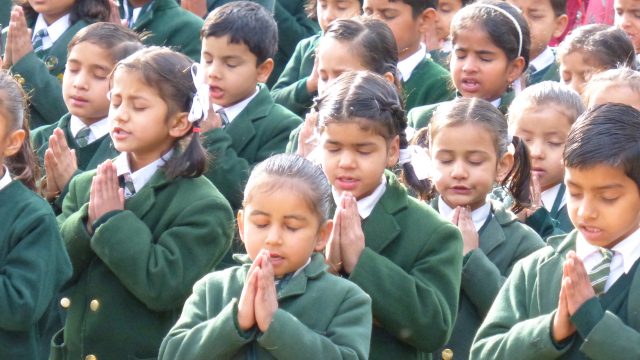 Matthew 22: 36-46
36 'Teacher, which commandment in the law is the greatest?' 37 He said to him, '"You shall love the Lord your God with all your heart, and with all your soul, and with all your mind." 38 This is the greatest and first commandment. 39 And a second is like it: "You shall love your neighbour as yourself." 40 On these two commandments hang all the law and the prophets.'

41 Now while the Pharisees were gathered together, Jesus asked them this question: 42 'What do you think of the Messiah? Whose son is he?' They said to him, 'The son of David.' 43 He said to them, 'How is it then that David by the Spirit calls him Lord, saying,

44 "The Lord said to my Lord,
'Sit at my right hand,
until I put your enemies under your feet'"?

45 If David thus calls him Lord, how can he be his son?' 46 No one was able to give him an answer, nor from that day did anyone dare to ask him any more questions.
And here it begins. True community. The Presence of God. Imagine for a moment you are there amongst the Pharisees and Sadducees, the lawyers and teachers, that day. Jesus is being interrogated. He seems to answer well. All are interested in hearing his answers. There is much debate at first, but gradually all the answers seem to have been made. No-one can argue anymore. The Presence of God, Jesus the Son of God, brought heaven to earth. In His resurrection life He brings to us The Presence of God - Father, Son and Holy Spirit. All of the fullness of God. All the potential of heaven itself.
Ask Him a question – He is The Word
Approach Him – He is God-Who-Forgives
Listen to Him – He Calls you by Name and Transforms
Praise Him – Declare His Glory among the Nations
Fear Him – He Judges with Righteousness
Trust Him – He is the assurance of things hoped for, the evidence of things unseen (see Hebrews 11:1)
He is the Christ, the Son of the Living God. Are you inspired to follow Him this week? Then pray today and hand over your life to be His disciple, a learner from Him. Let Him transform you in His Presence. Join with other believers where The Presence of God is forming their community, His Church, to be the powerhouse for transformation throughout this world.
Jesus, I open my heart to you today
I want to be known by Your Name
I want to be your disciple
Cleanse me, forgive me, fill me with your peace.
Help me to follow you
Help me to grow into the abundant life you have promised me
Show me your purpose
Show me your faith
Transform me Lord God
Holy Spirit fill me and lead me each day
Waken my heart to faith in Jesus
Transform my mind by your word
Transform the journey of my life
Give me the beautiful feet of those who transform the world
Father God, Thank you for your Son
Thank you for the Cross and the love you have shown
Thank you that I can approach you with confidence
You are always near me, Walk with me today Father, In Jesus Name, Amen