Daily Worship -
Nothing will separate us from the love of God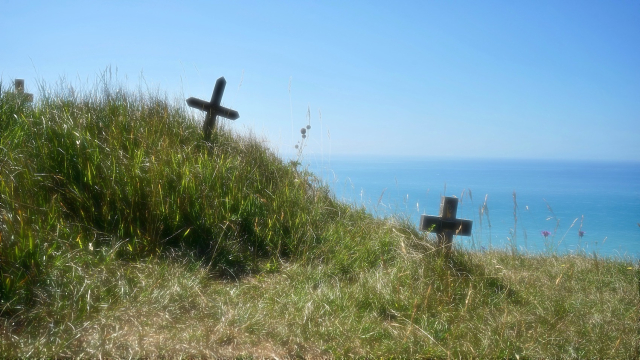 Psalm 81: 1-10
1 Sing for joy to God our strength;
shout aloud to the God of Jacob!
2 Begin the music, strike the tambourine,
play the melodious harp and lyre.

3 Sound the ram's horn at the New Moon,
and when the moon is full, on the day of our Feast;
4 this is a decree for Israel,
an ordinance of the God of Jacob.
5 When God went out against Egypt,
he established it as a statute for Joseph.

I heard an unknown voice say:

6 'I removed the burden from their shoulders;
their hands were set free from the basket.
7 In your distress you called and I rescued you,
I answered you out of a thundercloud;
I tested you at the waters of Meribah.
8 Hear me, my people, and I will warn you –
if you would only listen to me, Israel!
9 You shall have no foreign god among you;
you shall not worship any god other than me.
10 I am the Lord your God,
who brought you up out of Egypt.
Open wide your mouth and I will fill it.
In Psalm 81 the Psalmist sings a song of great joy; a song that acknowledges a burden-bearing God. In times of trouble this God is always near, even though a storm is ranging around us. "From my hiding place in the storm I answered you" says the Lord (verse 7b Good News Bible Translation).
Sometimes it is very difficult to listen while we are in the storm. But, like Israel of old, obedience to the Lord assures us that God remains near and is our greatest joy. In darkest times, there must always be a season of rejoicing in a God whose love can never be separated from us.
"No, in all these things we are more than conquerors through him who loved us. For I am convinced that neither death nor life, neither angels nor demons, neither the present nor the future, nor any powers, neither height nor depth, nor anything else in all creation, will be able to separate us from the love of God that is in Christ Jesus our Lord." (Romans 8: 37-39)
Lord of all wisdom and grace
Today I will sing your praises
I will rejoice in the wonder of new birth
I will rejoice in the freshness of the early morning,
In the gift of so many lovely things –
Flowers, trees, animals, birds,
The gift of family and friends.
Most of all, Lord I will rejoice in You Lord,
The Giver of all good things.
Your Word tells us not to be anxious for anything
But, Lord, I am anxious about so many things…
Take all my anxieties to yourself Lord God –
And give me instead, Your peace, Your joy. Amen.