Daily Worship -
The Lord will keep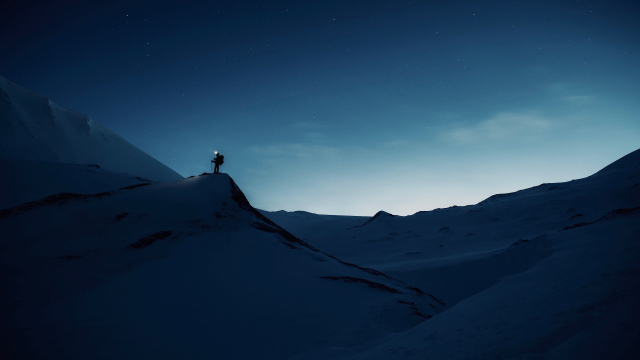 Psalm 121 (NIVUK)
1 I lift up my eyes to the mountains –
where does my help come from?
2 My help comes from the Lord,
the Maker of heaven and earth.

3 He will not let your foot slip –
he who watches over you will not slumber;
4 indeed, he who watches over Israel
will neither slumber nor sleep.

5 The Lord watches over you –
the Lord is your shade at your right hand;
6 the sun will not harm you by day,
nor the moon by night.

7 The Lord will keep you from all harm –
he will watch over your life;
8 the Lord will watch over your coming and going
both now and for evermore.
At the end of my first year of university a friend invited me along to North America. Upon hearing this many friends spoke of Disneyland, Time Square, Beaver Damn and the Grand Canyon.
"You have to go and visit!"
Recreation, however, was way down on my list of priorities.
I went straight to Vermont, north of New York State, to a place called Ascutney Mountain Resort to enrol as a snowmaker. How ironic though that I had, up until that point, never even SEEN snow… now they expected me to make it!
We worked night shifts; scaling up and down the steep mountain slopes in the dark of night as if we had roamed these woods for centuries.
Two weeks in, a few of our colleagues called in sick which meant that we had effectively have to work 3 consecutive 12 hour shifts. I didn't mind. The extra cash would later finance a brand new Zildjian crash cymbal…
But, oh boy, how we regretted it 24 hours in…
Have you ever been so tired that you actually fell asleep whilst walking?
Yes, as a matter of fact, it did happen to me.
My eyes had become so heavy that it felt like I was bench pressing Scotland's front row rugby props as I struggled to open my eyelids.
Physically drained and emotionally depleted I dropped down to my knees and thought of Psalm 121.
"Lord, I lift my eyes up to these snowy mountains and wonder how I'll mange through the night. Remind me that you made all that I can see and that you watch over me — never sleeping, always standing guard in order to protect me…"
In that moment I thought of things I battled with in the past and how God's faithfulness always managed to carry me to the end.
And then I felt it.
Hope.
Hope that God's consistent and continuous help will be adequate.
Strengthened by this encounter I got back on my feet and strolled back down to basecamp.
And what do you know; the fever passed sooner than predicted; and we had been relieved of our duties.
God came through, He always does.
What are you hoping for in the day ahead? Speak to God about it.