Daily Worship
Lest we forget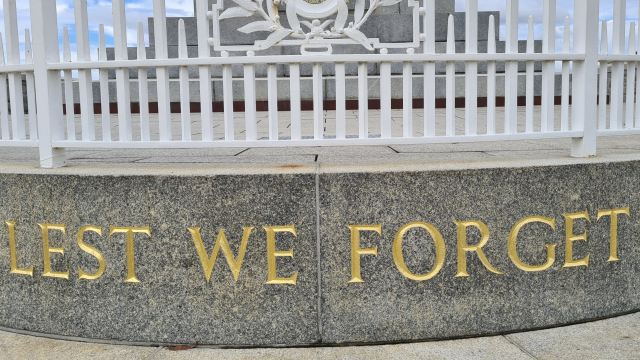 Listen to this daily worship
Joshua 4: 1-7 (NRSVA)
4 When the entire nation had finished crossing over the Jordan, the Lord said to Joshua: 2 'Select twelve men from the people, one from each tribe, 3 and command them, "Take twelve stones from here out of the middle of the Jordan, from the place where the priests' feet stood, carry them over with you, and lay them down in the place where you camp tonight."' 4 Then Joshua summoned the twelve men from the Israelites, whom he had appointed, one from each tribe. 5 Joshua said to them, 'Pass on before the ark of the Lord your God into the middle of the Jordan, and each of you take up a stone on his shoulder, one for each of the tribes of the Israelites, 6 so that this may be a sign among you. When your children ask in time to come, "What do those stones mean to you?" 7 then you shall tell them that the waters of the Jordan were cut off in front of the ark of the covenant of the Lord. When it crossed over the Jordan, the waters of the Jordan were cut off. So these stones shall be to the Israelites a memorial for ever.'
Today, people will gather to remember in churches, at cenotaphs or in their homes. Wherever they are, millions will unite in silence as the end of the First World War is commemorated across our world at the eleventh hour…
A couple of Saturdays ago, as part of the events to commemorate the launch to this year's PoppyScotland appeal, I had the honour of leading a short service at two memorial stones in Greenock Cemetery, the largest cemetery containing graves from both wars in Scotland. The first stone was at the entrance to the cemetery, to commemorate the 271 lives lost during the Greenock Blitz in May 1941 while another stone sits nestled amongst the graves at the back of the cemetery. The second stone is known as the Mass Grave, where we remember those whose names we may never know.
At this second stone, we took time to contemplate each person remembered there as one of God's works of art, who are individually loved by family, friends and by God who continues to love and walk with them and us each day.
Like the Israelites on the opposite bank of the Jordan, do we need to pause more and remember? Before we simply move on to the next task to do or issue to resolve, do we need to take more time to create our memorials in order that the generations that live on after us can focus on what has been, what should be carried into the future and what should be learned from and left behind?
How should we do this?
Do we simply encode our memories as ones and zeros in the cloud as posts on social media, blogs and video clips?
Is that enough?
Or should we take the time to create something tangible to serve a memorial to the people for generations to come?
Let us pray
God of the past
Thank you for memories and memorials.
God of the present
Thank you for the opportunity to learn from the past.
God of tomorrow and forever
Thank you for all that made
and continues to make tomorrow possible.
Amen.