Daily Worship
Jesus is Lord!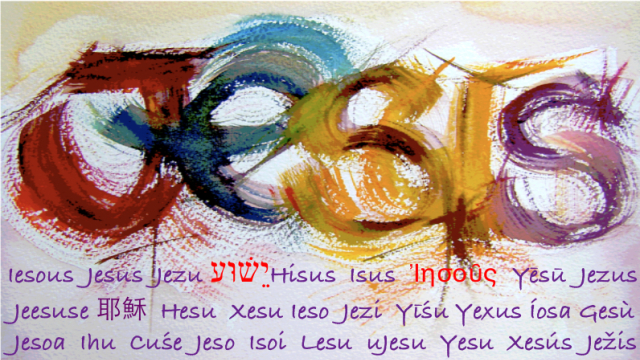 Romans 10: 8-13
8 But what does it say?

'The word is near you,
on your lips and in your heart'

(that is, the word of faith that we proclaim); 9 because if you confess with your lips that Jesus is Lord and believe in your heart that God raised him from the dead, you will be saved. 10 For one believes with the heart and so is justified, and one confesses with the mouth and so is saved. 11 The scripture says, 'No one who believes in him will be put to shame.' 12 For there is no distinction between Jew and Greek; the same Lord is Lord of all and is generous to all who call on him. 13 For, 'Everyone who calls on the name of the Lord shall be saved.'
Paul writes, "the same Lord is Lord of all", and we see how that teaching has made its way around the world. There are words in every language to express the name of Jesus, and although the words are spelled differently or appear in characters we do not recognise (see picture), they all name God's son. The Hebrew word and the Greek word stand out and are highlighted in today's image – and in Paul's mind 'Jew' and 'Greek', stand for 'the chosen people', and the 'outsiders' respectively, but these divisive terms are obsolete in the coming of Jesus, who works out his salvation for people of all races and nations.
No one is left out of the love of God, and therefore we too are called to share our faith and our care with all people. We may feel most comfortable with friends, but only through the trust of friendliness, with neighbours, or strangers, will we find the opportunity to share the Gospel of Salvation.
God of the human race,
accept my praise and worship, as I join my voice to those of others around the world, who are also praying to you just now.
As our cries come to you, bless us: your family across the earth, and part of the great company of heaven. Thank you for those who have gone before us - family, wise friends, teachers and saints
who brought us the name of Jesus and his teaching and who in the kingdom of heaven, are very close to us.
Bless the community in which I live, with its mix of people from other nations and backgrounds.
Help me to listen to, and understand their culture, and draw us together as fellow creatures with more to share and hold in common than to divide us.
Lent Disciplines
WEEK 2: Every day this week spend 5 minutes in silence. Take a moment to still yourself before God and rest. Don't feel any pressure to think about anything in particular and don't worry if you get distracted. Simply breathe in and out and let the thoughts come and go. It may be that after spending five minutes in silence you feel like saying a prayer but it's up to you. Take the time to listen in the silence before carrying on with the rest of your day.