Daily Worship -
A high place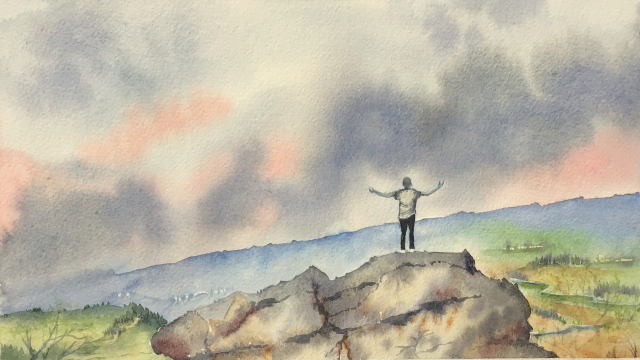 Luke 4: 1-13
1 Jesus, full of the Holy Spirit, returned from the Jordan and was led by the Spirit in the wilderness, 2 where for forty days he was tempted by the devil. He ate nothing at all during those days, and when they were over, he was famished. 3 The devil said to him, 'If you are the Son of God, command this stone to become a loaf of bread.' 4 Jesus answered him, 'It is written, "One does not live by bread alone."'

5 Then the devil led him up and showed him in an instant all the kingdoms of the world. 6 And the devil said to him, 'To you I will give their glory and all this authority; for it has been given over to me, and I give it to anyone I please. 7 If you, then, will worship me, it will all be yours.' 8 Jesus answered him, 'It is written,

"Worship the Lord your God,
and serve only him."'

9 Then the devil took him to Jerusalem, and placed him on the pinnacle of the temple, saying to him, 'If you are the Son of God, throw yourself down from here, 10 for it is written,

"He will command his angels concerning you,
to protect you",

11 and

"On their hands they will bear you up,
so that you will not dash your foot against a stone."'

12 Jesus answered him, 'It is said, "Do not put the Lord your God to the test."' 13 When the devil had finished every test, he departed from him until an opportune time.
We talked earlier in the week about keeping a sense of perspective and priority. In this event from Jesus' life, we see how he prepared for leadership and learned to deal with its risks.
As Christians, it's important to grow our faithful relationship with God into an active discipleship. In his strength and teaching we find the resources to move from being a spectator to a participant in the life of the Church, where we are encouraged to take on leadership tasks, teaching or serving others as we ourselves have been taught.
However Jesus' experience teaches us to be self-aware. How quickly we can come to believe in our own ability and judgement. How easily that slides into pride and arrogance, and that is not service to God, but disaster for our soul.
Resisting the scope of his unlimited power, Jesus humbly reminds himself of the words of the Bible – a lesson for all us when we might go wrong. Repeatedly he fights off inclinations to an easy way to attract people to him and we read later in the Gospels how he goes on to embody the humble servant-leader.
Gracious God, I am encouraged to read of Jesus' struggle with his work in this world. I too am sometimes tempted to the easy way out, or to courting people's praise and approval.
Show me how to serve humbly, and seek joy in the tasks which do not bring great praise.
When I am tempted, come close to me and remind me of your promises, so that I may find the reserves to be the best version of the person you have called me to be.
If I have been content to be a faithful spectator, and not yet attempted to be a disciple, grant me the inspiration to see where I might offer service to my community or church. May the Holy Spirit strengthen me to take on new tasks and grow into leadership.