Daily Worship
Hold us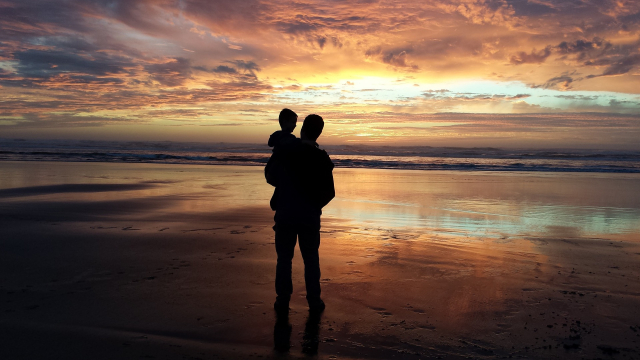 Galatians 4: 4-7
4 But when the fullness of time had come, God sent his Son, born of a woman, born under the law, 5 in order to redeem those who were under the law, so that we might receive adoption as children. 6 And because you are children, God has sent the Spirit of his Son into our hearts, crying, 'Abba! Father!' 7 So you are no longer a slave but a child, and if a child then also an heir, through God.
God loves us.
How much of the Bible is devoted to this message and how much of our lives do we spend held back by troubles, doubts, and betrayals unable to see this one truth?
Christmas has passed where Jesus came down to reassure us, to be one of us.
The Spirit is here every moment in everything to whisper softly to us, 'We love you'.
God is outside of our time and understanding but somehow manages also to be with us, and alongside us, and one of us.
For good reason we are encouraged to cry Abba when things get us down and like an Abba (Aramaic for 'dad') God is bigger and can hold us through it, Jesus is one of us and can help us bear it, the Spirit is with us and can help us find the way forward.
Abba, Jesus, Spirit,
I stand in wonder at your grace.
That with all of time and space you stopped to help us,
That with so much wonder to behold you choose to hold onto us,
That you can see everything but delight also in seeing each one of us so clearly.
Thank you,
Amen.