Daily Worship
A garland instead of ashes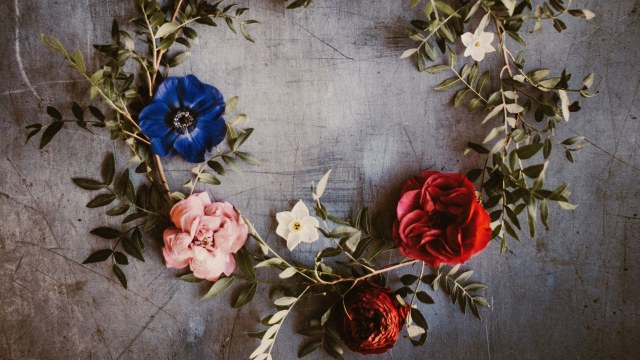 Isaiah 61: 1-4 (NRSV)
1 The spirit of the Lord God is upon me,
because the Lord has anointed me;
he has sent me to bring good news to the oppressed,
to bind up the brokenhearted,
to proclaim liberty to the captives,
and release to the prisoners;
2 to proclaim the year of the Lord's favor,
and the day of vengeance of our God;
to comfort all who mourn;
3 to provide for those who mourn in Zion—
to give them a garland instead of ashes,
the oil of gladness instead of mourning,
the mantle of praise instead of a faint spirit.
They will be called oaks of righteousness,
the planting of the Lord, to display his glory.
4 They shall build up the ancient ruins,
they shall raise up the former devastations;
they shall repair the ruined cities,
the devastations of many generations.
In late September, in a joint letter to their bishops, Archbishops Justin (Canterbury) and Stephen (York) unambiguously set out the grim challenges facing England in the coming months: hunger, homelessness, mental health pressures and domestic violence. Despite the clear tests ahead, they suggested that the Church, with a presence in every community, is well-placed to, 'play a vital role in serving the nation...'
'We are called to be responsible, but we are also called to resilience and prophetic speech. We have the networks, long since mobilised, and the partnerships to serve especially the hungry and homeless.' Their insights reflect the servant stance in the passage above and the declaration of Jesus at the start of his ministry when he quotes, 'The Spirit of the Lord is on me,' (Luke 4: 18) and declares, 'Today, this Scripture has been fulfilled in your hearing,' (Luke 4: 21) thus revealing his messianic identity.
Contemplating the needs of the poor, the elderly and the isolated particularly, we might easily conclude there is little we can do, their plight being so deep-rooted. But these past months have demonstrated that much is possible when we work together to love our neighbours, and there is yet more to reimagine. What is realistic for us, which specific actions borne out of Christian compassion we decide to take, depends largely on local contexts, demography and the skills and resources we bring to the task ahead. Not least is the place of prayer in the midst of practical activity.
As we move into autumn, many of us are weary already with the extra responsibilities the pandemic has presented, and some are fragile. How amazing that Isaiah's words have travelled down through the centuries so that those who hear them now might be assured of God's comfort and promise, 'to give a garland instead of ashes, the oil of gladness instead of mourning, the mantle of praise instead of a faint spirit…'
PRAYER:
God of comfort, we know many for whom a garland, the oil of joy and a garment of praise would bring strength. We lift them to you now. Amen.