Daily Worship
An everyday miracle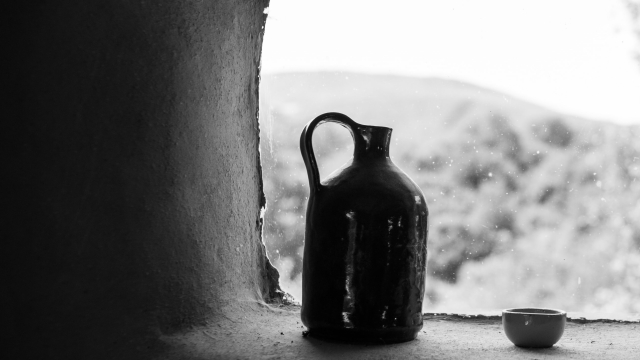 1 Kings 17: 8-16 (NRSVA)
8 Then the word of the Lord came to him, saying, 9 'Go now to Zarephath, which belongs to Sidon, and live there; for I have commanded a widow there to feed you.' 10 So he set out and went to Zarephath. When he came to the gate of the town, a widow was there gathering sticks; he called to her and said, 'Bring me a little water in a vessel, so that I may drink.' 11 As she was going to bring it, he called to her and said, 'Bring me a morsel of bread in your hand.' 12 But she said, 'As the Lord your God lives, I have nothing baked, only a handful of meal in a jar, and a little oil in a jug; I am now gathering a couple of sticks, so that I may go home and prepare it for myself and my son, that we may eat it, and die.' 13 Elijah said to her, 'Do not be afraid; go and do as you have said; but first make me a little cake of it and bring it to me, and afterwards make something for yourself and your son. 14 For thus says the Lord the God of Israel: The jar of meal will not be emptied and the jug of oil will not fail until the day that the Lord sends rain on the earth.' 15 She went and did as Elijah said, so that she as well as he and her household ate for many days. 16 The jar of meal was not emptied, neither did the jug of oil fail, according to the word of the Lord that he spoke by Elijah.
There are many ways in which God breaks through, making the ordinary extraordinary. Things which transport us from the humdrum of life to an experience of beauty which stops us in our tracks, prompting us to praise. Perhaps sunlight suddenly breaking through newly greening leaves, or the trusting hand of a child slipping into ours. God delights to reveal himself in the ordinary things of life. Jesus himself was the son of humble folk, born in a little backwater and, to begin with, almost unnoticed by the rich and powerful.
When I read today's passage, grain and oil miraculously sustaining life and health, it seems to me to have a sacramental element. I am reminded of the communion meal. Every time, during the communion service, when I hear these words…
As the Lord Jesus,
the same night in which he was betrayed,
took bread,
I take these elements of bread and wine,
to be set apart from all common uses
to this holy use and mystery.
… I feel the tangible presence of the Holy Spirit, making the ordinary, extraordinary, taking a humble loaf and common wine, and infusing them with the very breath of God. At this moment, seated around the table with my fellow Christians, I am seated around a table in heaven, in the presence of my Lord and Saviour.
PRAYER:
God of the ordinary,
of the insignificant and mundane,
thank you for your life-giving Spirit
which transforms water into wine.
Help us to see you in the ordinary
as we go about our daily lives.
May our encounters with friend and stranger
be encounters with you.
May our experiences, however conventional,
become remarkable with revelation.
May the humble artefacts of our daily lives
become sacred because we share them with you, Amen