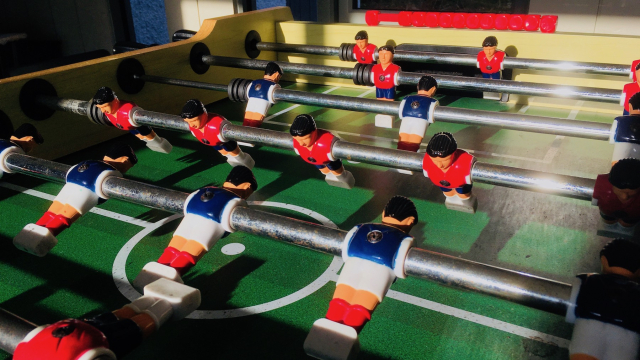 Competition, Character and Covenant
At Fullarton we use sports, especially football (soccer) to grow character, life skills, self-awareness and esteem. Competitive sport, even if it's only yourself or your personal best that you're competing against, is a tremendous auditorium for learning. Numerous worthies, also-rans, rascals and ragamuffins, come to life on finding their feet in sport and team. But our work is 'transformational' inside-out, as opposed to 'transactional' which is out and out about 'your performance' and what 'you bring to the team'. We aim to help one another believe and know we are precious and special without 'doing' anything. "Who ARE you?" is the big question we ask, rather than "What can you do!?"
The fact that "I am a beloved son / daughter of the Most High God!" is truly humbling and inspirational truth. With God's acceptance and Grace as base, and at 'Grace-pace' we foster an inner confidence with which to live well and perform on the field, knowing that our identity doesn't depend on it. The New Covenant, graciously given us through Jesus Christ, is characterised by the Father's voice at Jesus' baptism, when the Holy Spirit descends upon Jesus like a dove and we were addressed (through Jesus), "This is my daughter / son in whom I am delighted…"
In your awesome,
almighty,
all-loving,
all-knowing,
all-seeing,
everywhere presence
we are overwhelmed and cannot find adequate words
to describe your greatness
and our own seeming insignificance.
But your New Covenant with us does not cause us to cower in a corner for fear of being wiped away.
In Christ we are not humiliated
and made to feel smaller and more insignificant than we really are,
rather, humbled and made conscious of how 'preciously small' we are.
We stand tiny and tall in your amazing presence.
In comparison to your greatness we are smaller than a pin head,
but the fact that you love us
enough to come for us through Christ is life-changing.
May 'who I am in Christ'
influence and inspire 'what I do'
in all of my relational, sporting, working, life,
day and night.
Amen.
Psalm 25:1-10 (MSG)
1-2 My head is high, God, held high;
I'm looking to you, God;
No hangdog skulking for me.
3 I've thrown in my lot with you;
You won't embarrass me, will you?
Or let my enemies get the best of me?
Don't embarrass any of us
Who went out on a limb for you.
It's the traitors who should be humiliated.
4 Show me how you work, God;
School me in your ways.
5 Take me by the hand;
Lead me down the path of truth.
You are my Savior, aren't you?
6 Mark the milestones of your mercy and love, God;
Rebuild the ancient landmarks!
7 Forget that I sowed wild oats;
Mark me with your sign of love.
Plan only the best for me, God!
8 God is fair and just;
He corrects the misdirected,
Sends them in the right direction.
9 He gives the rejects his hand,
And leads them step-by-step.
10 From now on every road you travel
Will take you to God.
Follow the Covenant signs;
Read the charted directions.