Daily Worship
Boiling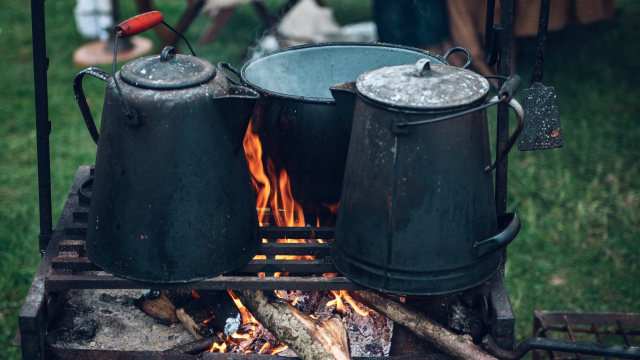 Romans 12: 9-21 (NRSV)
9 Let love be genuine; hate what is evil, hold fast to what is good; 10 love one another with mutual affection; outdo one another in showing honor. 11 Do not lag in zeal, be ardent in spirit, serve the Lord. 12 Rejoice in hope, be patient in suffering, persevere in prayer. 13 Contribute to the needs of the saints; extend hospitality to strangers.

14 Bless those who persecute you; bless and do not curse them. 15 Rejoice with those who rejoice, weep with those who weep. 16 Live in harmony with one another; do not be haughty, but associate with the lowly; do not claim to be wiser than you are. 17 Do not repay anyone evil for evil, but take thought for what is noble in the sight of all. 18 If it is possible, so far as it depends on you, live peaceably with all. 19 Beloved, never avenge yourselves, but leave room for the wrath of God; for it is written, "Vengeance is mine, I will repay, says the Lord." 20 No, "if your enemies are hungry, feed them; if they are thirsty, give them something to drink; for by doing this you will heap burning coals on their heads." 21 Do not be overcome by evil, but overcome evil with good.
Fire is an unforgiving metaphor, if it is attached to righteous indignation. Attached to love, it blesses all, even enemies (verse 20). Here is a story from the early days of one of China's great Christian leaders, Hsi Chengmo, born in the 19th century. He was a Confucian scholar who converted to Christian faith, but still occupied a position of influence. He began to preach, to great effect. Some of his own converts were persecuted, and came to his home to seek refuge. He burned with indignation, went to the local mandarin, and claimed protection in the name of the foreign treaties with Europe which were supposed to protect those who embraced Christianity. The mandarin duly restored law and order, and other people began to convert, burning their idols and joining local churches. But as the years went by, and troubles came, many of them backslid, and gradually Pastor Hsi realised that persecution was a process which God allowed to strengthen the church, and that enemies were to be loved, not forced into submission.
It is not easy to bless those who persecute you, whether persecution is physical or social. But it is fruitful, and one of the things which shows love to be genuine (v9, literally the Greek word is 'without hypocrisy'). There is a lovely hot word in verse 11, 'ardent' in spirit, which literally means 'boiling'. It was used in Acts, of Apollos. But it is followed by 'be patient in suffering, persevere in prayer'. It is part of the balance of spiritual grace that a person may, as we say in Scotland, 'bile' away with enthusiasm for God, yet never let that turn to 'bile' when someone else's enthusiasm is turned against you and against God (or even just against you!).
Paul combines enthusiasm with common sense, the Old Testament 'wisdom' which he took from Proverbs in verse 20. 'Do what everyone considers to be good', 'live in peace as far as you can'. As his simpler brother Peter said, if you are going to face trouble, make sure you haven't just brought it on yourself.
PRAY:
Remember today those who are persecuted for their faith.
Remember those who are persecuted because they take a stand for right.
Remember those who are persecuted because of their skin or sexuality.
Remember those who are persecuted. Amen.