Daily Worship
Artistry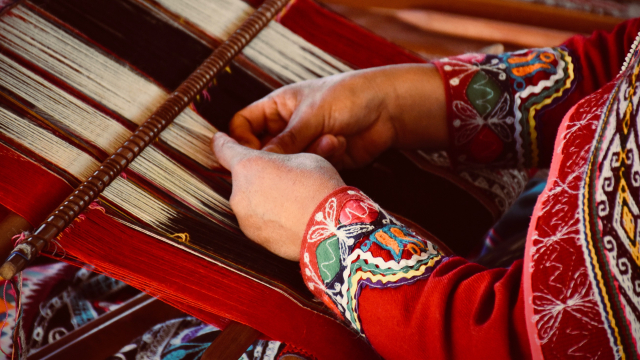 Psalm 119: 1-8 (NRSVA)
1 Happy are those whose way is blameless,
who walk in the law of the Lord.
2 Happy are those who keep his decrees,
who seek him with their whole heart,
3 who also do no wrong,
but walk in his ways.
4 You have commanded your precepts
to be kept diligently.
5 O that my ways may be steadfast
in keeping your statutes!
6 Then I shall not be put to shame,
having my eyes fixed on all your commandments.
7 I will praise you with an upright heart,
when I learn your righteous ordinances.
8 I will observe your statutes;
do not utterly forsake me.
Fair and Square

No tapestry complete without a square
jaw somewhere, to remind tame images
that words do more than chatter,
show how torah draws a frame for life
to challenge slipshod needlework,
set out certain things that matter.

No book complete without some ordering
of chapters, sequences of numbers, letters
sailing A to Z, the blacks, the whites,
all shades of tighter petit point let loose
upon a canvas sea, like decorated buoys
which mark each passage with eight riding lights.

No symphony complete without a switch
from law to liberty, a swatch of tones,
an itch unwrapped so strings rehearse
its secret. Bless you, ancient makar, shrewd
composer, artist, stitcher: you have left
your needle prints so clear in every verse.

No life complete without God's art and music
hidden in our sober prose, artless, silent,
waiting for the word to waken, say hello,
and introduce a new dimension, dancing
intimacy to the edge of long horizons,
splashing colour on a great allegro. © Jock Stein 2019
PRAYER:
Lord, set your art before my eyes, your music at my ears, your word within my walk, that my life today may be well ordered, and full free. And may the happiness of obedience and the joy of good purpose, add colour and melody to the life that will keep flowing around me, for your name's sake, Amen.