Daily Worship
Anticipation and Excitement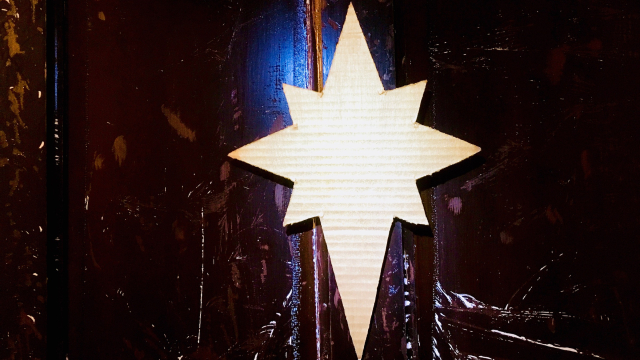 Philippians 4: 4-7
4 Rejoice in the Lord always. I will say it again: rejoice! 5 Let your gentleness be evident to all. The Lord is near. 6 Do not be anxious about anything, but in every situation, by prayer and petition, with thanksgiving, present your requests to God. 7 And the peace of God, which transcends all understanding, will guard your hearts and your minds in Christ Jesus.
Carol Finlay recalls how Christmas fever grips Ekwendeni Hospital in Malawi and encourages us to feel the same kind of anticipation and excitement:
"The excitement is building as fleeting glimpses of sheep; bejewelled boxes and a great big silver star atop a pole are seen by excited student nurses rushing from one treatment room to another; they are getting ready.
The crowd sit squashed along the concrete benches of the clinic building, facing a temporary wooden stage. It is dark outside apart from the moon and stars and the dim lighting of a clinic building which adds to the atmosphere and anticipation of what is to come. This is Ekwendeni Hospital's annual nativity play performed by the students of the School of Nursing. Weeks of fraught rehearsals culminate in what should be an Oscar winning performance, the first words are spoken, and the first Carol is sung as a very pregnant Mary with Joseph start on the journey to Bethlehem.
For many of the patients and relatives, this is the first time they have ever seen a Nativity Play, for some perhaps the first time of engaging with the Christmas story. The Ekwendeni version is one of real drama; of labour pains, of the angst of the Magi in their search and the anger of Herod. The magical moment is always the birth of Jesus. One new baby, in the front row sleeping in mother's arms, is commandeered and magically appears in the arms of Mary, who places him in the manger. The dim light obscures this from the audience who only notice the baby in the manager as the star (which is attached to a torch) beams down from above. Gasps from the audience - once again the miracle of Christmas dawns."
Carol captures a tradition which has been exported around the world. The idea of "incarnation" is complex in its theology, but simple when it boils down to God becoming one of us – pure love given for the life of the world. A love that invites us to respond through rejoicing.
A Prayer:
As we think of the thrill of those whose children play out the story of the Nativity, remind us that the real thrill is to know that Christ can be born in us today. We thank you for the special moments when we gather together to celebrate, and for the daily rejoicing when that celebration becomes part of our everyday life - lived anew each day. Amen.