Daily Worship -
Vital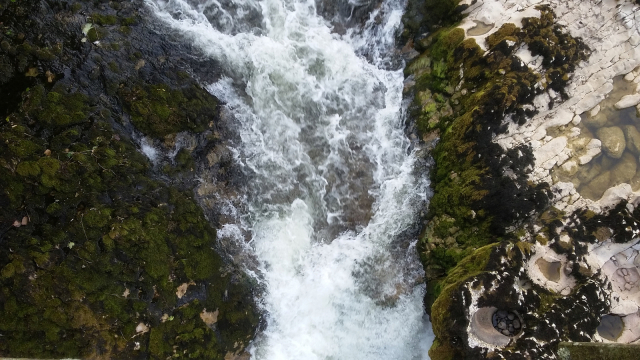 John 7: 37-39 (NRSVA)
37 On the last day of the festival, the great day, while Jesus was standing there, he cried out, 'Let anyone who is thirsty come to me, 38 and let the one who believes in me drink. As the scripture has said, "Out of the believer's heart shall flow rivers of living water."' 39 Now he said this about the Spirit, which believers in him were to receive; for as yet there was no Spirit, because Jesus was not yet glorified.
Jesus stands to offer this invitation in a loud voice: "Come to me and receive living water". What must those witnessing have made of it?
Already, the crowd were watching for Jesus to appear, having heard that he was someone with something to say. He spends time teaching in the Temple courts, alluding to his short time left on earth which causes people to try to seize him.
At the end of the Festival on the day before people dispersed, Jesus stands up and speaks publicly of living water – the Holy Spirit. Words to be remembered and talked about on the road back home.
Jesus offers relationship with himself as the only way you can receive this living water. He says these words in the Temple where Priests and Teachers daily speak and act out ceremonies, explaining the transactions between God and Man.
Why would hearers be interested in this offer?
If it is a serious offer then it is open to anyone:
Men and women, slave and free, young and old, Jew and Gentile, ill and well, oppressor and oppressed…
The only qualification is to thirst for connection to the life-giving power that flows, the Holy Spirit, bringing wholeness and creativity.
Am I thirsty?
PRAYER:
Water – clear symbol of created life.
Sustaining growth, function,
Making purpose possible.
Living water — Holy Spirit —
Extra need uncovered.
If this was vital to my life today
Then every encounter,
Every conversation,
Every communication,
Every prayer,
Every song,
Every Scripture reading,
Would bring life to others.
Am I really thirsty?
Are we thirsty?
Really thirsty?
Really, really parched?
Unsatisfied with our draught drunk today?
Will we come to humbly ask
For what Jesus can gift us?
In these days where we search for food, supplies, friendship, help
In all sorts of ways, may we see the Spirit's work.
Open up the place within where
The lively Spirit encourages us to dream, to act, to be
People whose life speaks life to others —
Imprints of the Kingdom.
Make me thirsty Lord.
Spirit bring life
To all our moods and purposes:
Brooding, loving, caring, drawing.
Lead us on.