Daily Worship
The unexpected present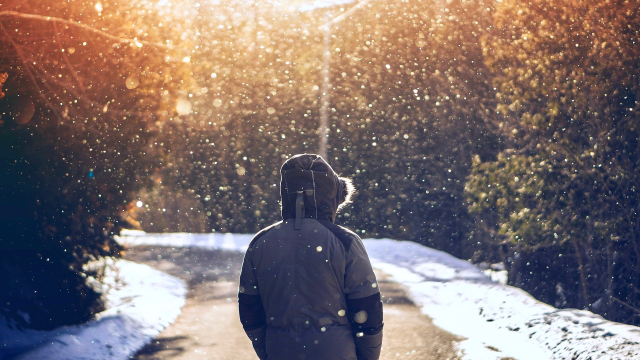 Luke 1: 26-38 (NIVUK)
26 In the sixth month of Elizabeth's pregnancy, God sent the angel Gabriel to Nazareth, a town in Galilee, 27 to a virgin pledged to be married to a man named Joseph, a descendant of David. The virgin's name was Mary. 28 The angel went to her and said, 'Greetings, you who are highly favoured! The Lord is with you.'

29 Mary was greatly troubled at his words and wondered what kind of greeting this might be. 30 But the angel said to her, 'Do not be afraid, Mary, you have found favour with God. 31 You will conceive and give birth to a son, and you are to call him Jesus. 32 He will be great and will be called the Son of the Most High. The Lord God will give him the throne of his father David, 33 and he will reign over Jacob's descendants for ever; his kingdom will never end.'

34 'How will this be,' Mary asked the angel, 'since I am a virgin?'

35 The angel answered, 'The Holy Spirit will come on you, and the power of the Most High will overshadow you. So the holy one to be born will be called the Son of God. 36 Even Elizabeth your relative is going to have a child in her old age, and she who was said to be unable to conceive is in her sixth month. 37 For no word from God will ever fail.'

38 'I am the Lord's servant,' Mary answered. 'May your word to me be fulfilled.' Then the angel left her.
I don't like presents! I mean, I do LIKE presents but I don't like being given them. I never feel I'm grateful enough when I receive them. I don't feel I deserve any of the wonderful blessings I've been given. I would hate to see the sadness on the face of someone I loved if I didn't show them how much I appreciated the effort they had put into trying to make me happy. Christmas is therefore quite a stressful time and, as we all sit around unwrapping our presents as a family, it's a little like being in a goldfish bowl of potential disappointment. Of course it doesn't need to be this way but in our flawed silly way we have made it so. We take a great truth — God becoming flesh — and dress it up with flashing lights and an orgy of excess, rolled out once a year. It's almost as if the central, humble, wonderful message of the birth of Christ and the light coming into the world has to be buried.
Christmas. Look at what we made it, it's rather sad and tawdry. A big fat SantaEasterClausBunny.
And it just isn't this way with Grace.
Grace gives and receives constantly, when we are in harmony with the creator this is the ebb and flow of love. Perfectly natural, perfectly balanced. All around us 24/7, 365 days a year.
Maybe Christmas is a time when we are truly grateful
And that gratitude will put a smile on the face of God.
PRAYER:
Father God
You enfold me in your arms
As I remember your love this Advent
You say:
"Grace,
you deserve all manner of blessings
Open your eyes to see
Your hands to receive
And your ears to hear
A still small voice
Underneath the songs
Of Advent tide."
Amen.