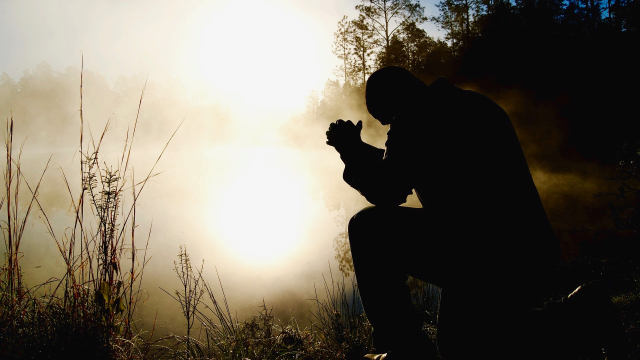 Turning away, turning toward
It is one of the great mysteries of Jesus' story that so many people saw Him, heard Him and experienced His power and yet were not convinced. Jesus Himself expected this but deeply mourned the rejection. Those who turned away from Him were not merely choosing another path in life but refusing the plea of the Eternal One who longed to draw them to Himself.
Pilate was in a unique position to hear that plea. It is not easy to unravel this complex character. He did not care for the Jews he governed. He did much to provoke and insult them. Perhaps to some extent it was this that made him sympathetic to Jesus. The top men of Israel's religion wanted rid of this carpenter turned preacher. It would be quite something to see their faces if Jesus was set free. Even apart from this, however, the case against Jesus was so flimsy. But in the end Pilate gave in to the pressure. What did one insignificant life matter when placed against his reputation as a Governor?
We wonder how Jesus could be set aside so easily and yet have we wholly embraced Him and His ways? He has called for total commitment but how much have we given? How much do we set aside? Advent is traditionally a penitential season, a time of self-examination leading to deeper commitment. It has become the season of consumption but for us there is the opportunity to join with those Advent people we commemorate:
John the Baptist who said: 'He must become greater; I must become less.'
Mary who said: 'I am the Lord's servant.'
John 18: 33-37
33 Then Pilate entered the headquarters again, summoned Jesus, and asked him, 'Are you the King of the Jews?' 34 Jesus answered, 'Do you ask this on your own, or did others tell you about me?' 35 Pilate replied, 'I am not a Jew, am I? Your own nation and the chief priests have handed you over to me. What have you done?' 36 Jesus answered, 'My kingdom is not from this world. If my kingdom were from this world, my followers would be fighting to keep me from being handed over to the Jews. But as it is, my kingdom is not from here.' 37 Pilate asked him, 'So you are a king?' Jesus answered, 'You say that I am a king. For this I was born, and for this I came into the world, to testify to the truth. Everyone who belongs to the truth listens to my voice.'