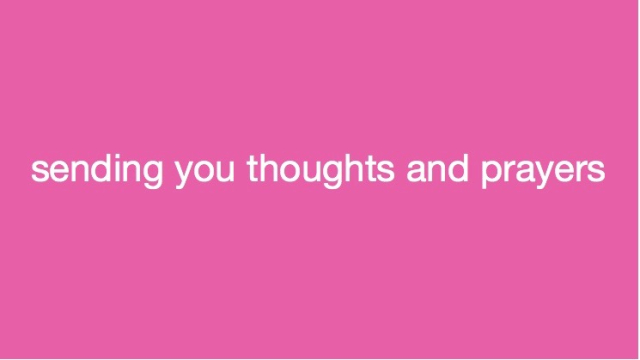 "Thoughts and Prayers"
"Sending you thoughts and prayers" has become something of a ubiquitous phrase on social media. There are times when we mean it deeply but, more often, it is a way of salving our own souls whilst changing nothing. James calls us out, reminding us that faith without works is dead. Sending thoughts and prayers, whilst continuing to invest in the systems that oppress, demonstrates a faith that is either dead or dying.
The Rev Canon Lauren Holder says it beautifully when she tells us that we need to "preach the gospel of peace with our lives" (See: stphilipscathedral.org/Sermons/these-shoes-were-made-for-preaching). If we are struggling with this, if we feel like our faith is dead or dying and all we have to give are thoughts and prayers, there is good news. For we are a people whose story embraces death and points towards resurrection. In and through our thoughts and prayers, God can and does act. God reaches into our souls and resurrects us, to be living people of faith once more. So, be bold. Step out in a living, working faith. And preach the gospel of peace with your whole lives.
God of the naked and hungry:
Hear our prayers,
Hear our prayers for freedom and abundance,
for an end to poverty and hunger,
for a fairer world and the growing of your Kingdom;
Lord hear our prayers,
Then let us hear the answer,
particularly when it involves us:
Help us to hear your voice crying out for justice
To hear your will for us within that action
And then give us the strength of conscience and conviction
to stand up and be counted
in your struggle for peace, AMEN.
James 2: 14-17
14 What good is it, my brothers and sisters, if you say you have faith but do not have works? Can faith save you? 15 If a brother or sister is naked and lacks daily food, 16 and one of you says to them, 'Go in peace; keep warm and eat your fill', and yet you do not supply their bodily needs, what is the good of that? 17 So faith by itself, if it has no works, is dead.