Daily Worship
The Mountain of the Lord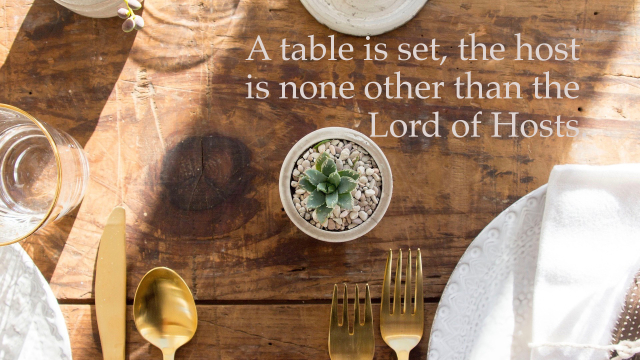 Isaiah 25: 5b
5b you subdued the heat with the shade of clouds;
the song of the ruthless was stilled
The song of the ruthless is stilled, silenced.
The rejoicing of the oppressor is interrupted, halted.
Overthrown are the closed systems,
prejudice and injustice are no more,
destructive empires - deposed.
Death swallowed up!
A table is set, the host is none other than the Lord of Hosts.
Fine wine, clear and sparkling. Food rich in marrow, these culinary delights no longer reserved for the elite. In faithfulness He will fill the hungry with good things, the rich He will send away empty.
We cry out - How long O Lord ?
How long 'til the hungry are fed, the prisoners are free?
How long 'til wars cease and the resources of the earth are fashioned for wellbeing?
We wait, we remember your faithfulness of old,
We wait, we remember your faithfulness, new every morning.
May we, as we wait, live as faithful people of our faithful God.