Daily Worship
The feast of the Kingdom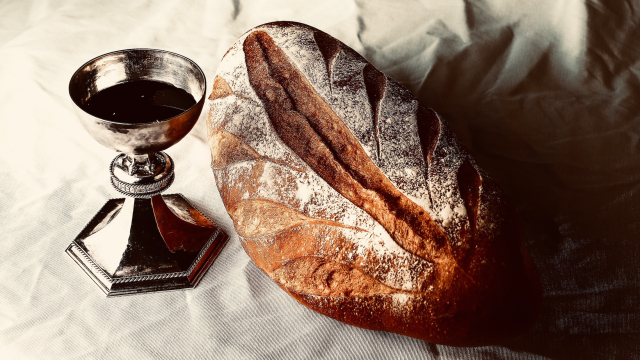 Isaiah 25: 6-9 (NIVUK)
6 On this mountain the Lord Almighty will prepare
a feast of rich food for all peoples,
a banquet of aged wine –
the best of meats and the finest of wines.
7 On this mountain he will destroy
the shroud that enfolds all peoples,
the sheet that covers all nations;
8 he will swallow up death for ever.
The Sovereign Lord will wipe away the tears
from all faces;
he will remove his people's disgrace
from all the earth.
The Lord has spoken.

9 In that day they will say,

'Surely this is our God;
we trusted in him, and he saved us.
This is the Lord, we trusted in him;
let us rejoice and be glad in his salvation.'
A feast…
With an invite for all,
Table set by Kingly hands.
A sacred meal.
Bread and wine…
Two everyday things, simple gifts
Wheat and grape,
Seed of earth and fruit of tree,
Nurtured by human effort,
Transformed by divine grace
Into sacred sign
The Kingdom brought near
The foretaste of eternity.
Bread of Life,
You set the table,
You bid us to come,
You invite us to slake our thirst and sate our hunger…
On you!
Feed us, nourish us,
Quench our thirst.
Remake us, renew us and restore us,
So that strengthened we return to the world
Bearing your light
And to spread your Kingdom seeds far and wide,
Amen.