Daily Worship -
That Knot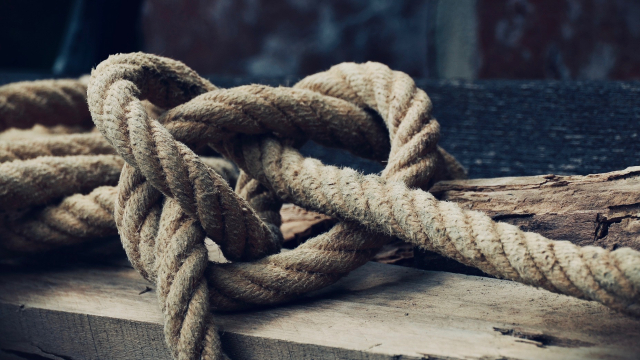 Psalm 34: 1-8
1 I will bless the Lord at all times;
his praise shall continually be in my mouth.
2 My soul makes its boast in the Lord;
let the humble hear and be glad.
3 O magnify the Lord with me,
and let us exalt his name together.

4 I sought the Lord, and he answered me,
and delivered me from all my fears.
5 Look to him, and be radiant;
so your faces shall never be ashamed.
6 This poor soul cried, and was heard by the Lord,
and was saved from every trouble.
7 The angel of the Lord encamps
around those who fear him, and delivers them.
8 O taste and see that the Lord is good;
happy are those who take refuge in him.
We humans have amazing gifts of reasoning and analysing - it's what got us to the bottom of the sea, the top of mountains, as far as the moon.
Or more accurately it's part of what got us there.
Because thinking can go haywire and logic can short circuit. We can get stuck in a loop analysing all eventualities until we paralyse ourselves.
We humans are great because we can think
and we're even greater because we know when to stop thinking.
We have the ability to fly in the face of the logic of our anxiety,
to reject the perceived wisdom of our fears,
to ignore the common sense of our phobias.
There are good reasons to worry
and better ones not to.
We can, like David, continue to bless the Lord
through tears and troubles,
even when blessing doesn't feel sensible or relevant or even possible.
We can, like KT Tunstall sings "Push That Knot Away".
David was pushing the knot away in this Psalm with his statement of intent: "I will bless the Lord at all times". Through cries of anguish, through calamity, through all the setbacks, he picks up the pieces and starts again.
A knot is such an evocative way of thinking about worries - the tangled threads all mixed up - with seemingly no beginning and end - just an awkward lump. Sometimes we spend so much time worrying over these knots, trying to get to the start, trying to loosen a bit here and a bit there. What's so anthemic about Tunstall's song is that these knots are simply pushed away - not undone or solved, or beaten - they are simply pushed away - rendered no longer relevant.
Dear God,
Help us to learn when to tie and when to loose
and when simply to push the knot away.
Give us the means to bless you
as we learn to persist, to delight, to exult.
Amen.