Daily Worship
The rock who hides you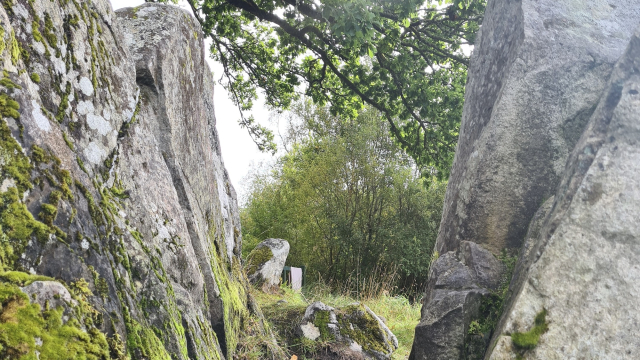 Listen to this daily worship
Exodus 33: 12-23 (NLT)
12 One day Moses said to the Lord, "You have been telling me, 'Take these people up to the Promised Land.' But you haven't told me whom you will send with me. You have told me, 'I know you by name, and I look favorably on you.' 13 If it is true that you look favorably on me, let me know your ways so I may understand you more fully and continue to enjoy your favor. And remember that this nation is your very own people."

14 The Lord replied, "I will personally go with you, Moses, and I will give you rest—everything will be fine for you."

15 Then Moses said, "If you don't personally go with us, don't make us leave this place. 16 How will anyone know that you look favorably on me—on me and on your people—if you don't go with us? For your presence among us sets your people and me apart from all other people on the earth."

17 The Lord replied to Moses, "I will indeed do what you have asked, for I look favorably on you, and I know you by name."

18 Moses responded, "Then show me your glorious presence."

19 The Lord replied, "I will make all my goodness pass before you, and I will call out my name, Yahweh, before you. For I will show mercy to anyone I choose, and I will show compassion to anyone I choose. 20 But you may not look directly at my face, for no one may see me and live." 21 The Lord continued, "Look, stand near me on this rock. 22 As my glorious presence passes by, I will hide you in the crevice of the rock and cover you with my hand until I have passed by. 23 Then I will remove my hand and let you see me from behind. But my face will not be seen."
God met Moses as friends would meet. Do we read this passage as two friends talking and meeting? Yes, there is all the wonderful glory and power of God here and the utter humanity of Moses and still, The Lord would speak to Moses face to face, as one speaks to a friend (Exodus 33:11).
What kind of friend is Moses? He's honest, vulnerable and a bit feisty!
What kind of friend is God? Patient, encouraging and responds in the moment.
I find it so encouraging that we find this kind of friendship model for us and God. Moses seems to have no problem holding in tension God as Almighty God, Creator of the universe and God as approachable, even to ask to see His glorious presence. God seems to be absolutely fine with Moses' human frailty whereby he needs the protection of a rock as His glorious presence passes by and yet still, let him, whom he knows by name, be in His glorious presence!
When Jesus lived on earth, we see ordinary people doing what Moses did, asking to see God's glorious presence, through signs, wonders and miracles. What we learn at the crucifixion and resurrection of Jesus is that God's power is capable of far more than healing those who ask for that. And yet, Jesus patiently encouraged them and responded in the moment with power that did not overwhelm them but gave them the hope of new, eternal life with Him. Jesus met people where they were at in understanding and faith. God did the same with Moses, he hid him in the cleft of the rock for what was too much for him and met him where he could be blessed.
We get to reach out to God in the same way, asking Him to see His glorious presence and trust Him to respond in the same way. Hiding us in the cleft of a rock to meet us where we are at with our understanding and faith so as not to go beyond what we can handle. Stretch our faith and thinking? Yes! But drown us? No.
Trust Jesus.
Prayer
God of Glory, El Hakkavod, is your name.
Your glory is so awesome and so amazing, I am constantly drawn to it, drawn to you.
I come closer to you, to meet with you as friends meet, for you Jesus, call me your friend. Yes! I am a friend of God.
Hide me in the secret place in your presence, like you hid Moses in the cleft of the rock, and let me glimpse your glory today. Holy Spirit give me courage and sight to see the glory of God today. Just now I pause in the silence of this prayer space for you.
I am humbled in the glory of your presence, humbled that you call me friend, humbled by your love for me.
Help me show your friendship to people I meet today.
I trust you Jesus, my friend and God.
Amen.