Daily Worship
Roads taken. Roads missed.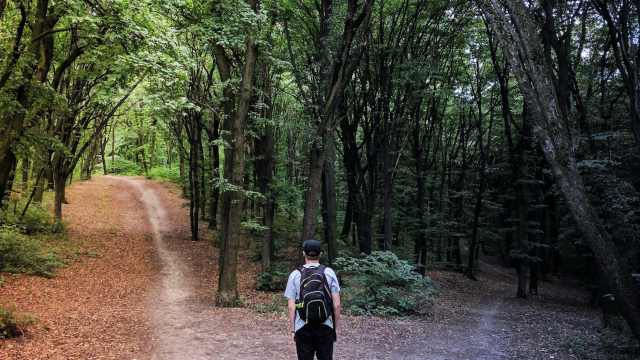 Psalm 105: 1-6 (NRSVA)
1 O give thanks to the Lord, call on his name,
make known his deeds among the peoples.
2 Sing to him, sing praises to him;
tell of all his wonderful works.
3 Glory in his holy name;
let the hearts of those who seek the Lord rejoice.
4 Seek the Lord and his strength;
seek his presence continually.
5 Remember the wonderful works he has done,
his miracles, and the judgements he has uttered,
6 O offspring of his servant Abraham,
children of Jacob, his chosen ones.
Memory can be a gift or a burden, depending on what you remember. For sufferers of PTSD, memory can be shattering — a nerve jangling, life-destroying series of explosions launched from their past into their present.
Memory itself is a curious thing. It isn't as accurate as we like to think. Studies have shown that perceptions and emotions alter both what we consciously see and what we remember. Furthermore, every time we 'rehearse' or revisit a memory in our minds we can alter it very slightly. These tiny alterations accumulate until what we 'remember' can be quite different from what actually happened. I know this both from psychology studies and from being a journal keeper. I am occasionally startled to read an old bit of writing and discover that an incident I recorded at the time I now remember quite differently.
Some people, however, have very well trained memories. Ancient storytellers worked this way, often capable of remembering long and complex tales exactly as they were told to them. The psalms were passed on through spoken word and music for centuries so that people would remember the history of God's interactions with his people, especially his faithfulness. There is a strength in that shared memory, especially if our individual memories and perceptions are jagged, or emotion laden. This is how it has been, says the psalmist. Remember this.
PRAYER:
Lord,
Some days I can see a clear path.
I can see where I came from and how it has got me here.
It makes sense and I can picture a way forward.
Other days all I have are fragments
Bits of things that happened or didn't happen.
Plans that came to fruition and plans which didn't.
Roads taken. Roads missed.
When my memories trouble, mislead or confuse me,
help me to sing your songs again,
tuck my memories into yours, God,
like you used to do.
Amen.