Daily Worship
Old clothes, new clothes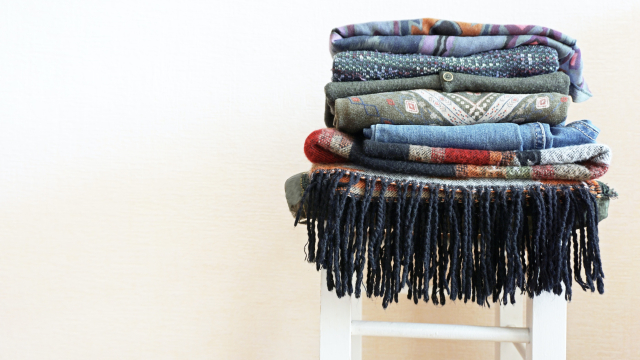 Acts 9: 36-43 (NRSVA)
36 Now in Joppa there was a disciple whose name was Tabitha, which in Greek is Dorcas. She was devoted to good works and acts of charity. 37 At that time she became ill and died. When they had washed her, they laid her in a room upstairs. 38 Since Lydda was near Joppa, the disciples, who heard that Peter was there, sent two men to him with the request, 'Please come to us without delay.' 39 So Peter got up and went with them; and when he arrived, they took him to the room upstairs. All the widows stood beside him, weeping and showing tunics and other clothing that Dorcas had made while she was with them. 40 Peter put all of them outside, and then he knelt down and prayed. He turned to the body and said, 'Tabitha, get up.' Then she opened her eyes, and seeing Peter, she sat up. 41 He gave her his hand and helped her up. Then calling the saints and widows, he showed her to be alive. 42 This became known throughout Joppa, and many believed in the Lord. 43 Meanwhile he stayed in Joppa for some time with a certain Simon, a tanner.
The villagers ran a scheme when our children were small – when your own child outgrew his or her clothes, you passed them on to another family who, in turn, passed them on again when the time was right. Everyone benefitted massively from this but there was more than one time at a village event when I tried to chastise a blond boy in a familiar green jumper, only to find he belonged to someone else!
The clothes enjoyed a second, third or fourth life.
There's so much to say about today's passage. Peter, relying on the power of the risen Jesus, brings Tabitha back to life. We hear that she was always doing good and helping the poor and Peter gets shown some clothes Tabitha had been working on. Here, it's not the clothes which get a second life – it's Tabitha.
This is a dramatic and extreme telling of one of Christianity's central and most radical truths. We all get a second chance in Jesus. So many aspects of human lives are determined by circumstance or our own decision making. The attraction of the Jesus story is that our faith in Him gives us a break from the past and a second chance to be who God intends for us to be.
I wonder what Tabitha did after her encounter with Peter?
I wonder what you will do today with your Jesus-given second chance?
PRAYER:
Father God, I thank you that I am free from the bad things of my past thanks to Jesus. Help me live well and make good choices. AMEN