Daily Worship
Of an everlasting love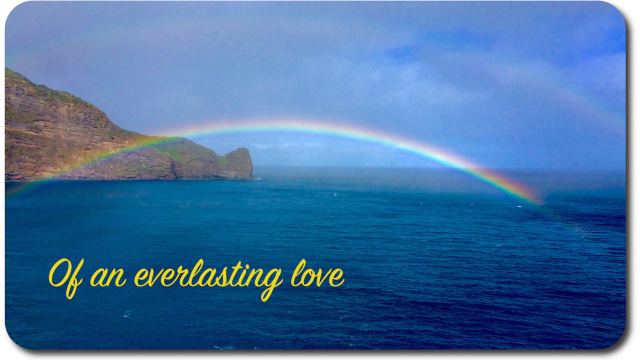 Genesis 9: 8-17
8 Then God said to Noah and to his sons with him, 9 'As for me, I am establishing my covenant with you and your descendants after you, 10 and with every living creature that is with you, the birds, the domestic animals, and every animal of the earth with you, as many as came out of the ark. 11 I establish my covenant with you, that never again shall all flesh be cut off by the waters of a flood, and never again shall there be a flood to destroy the earth.' 12 God said, 'This is the sign of the covenant that I make between me and you and every living creature that is with you, for all future generations: 13 I have set my bow in the clouds, and it shall be a sign of the covenant between me and the earth. 14 When I bring clouds over the earth and the bow is seen in the clouds, 15 I will remember my covenant that is between me and you and every living creature of all flesh; and the waters shall never again become a flood to destroy all flesh. 16 When the bow is in the clouds, I will see it and remember the everlasting covenant between God and every living creature of all flesh that is on the earth.' 17 God said to Noah, 'This is the sign of the covenant that I have established between me and all flesh that is on the earth.'
I remember the furore created when Eyjafjallajökull erupted in 2010.The ash plume extended way up into the upper atmosphere and covered over the airspace of Europe. Flights cancelled and life disrupted.
On the West Coast of Scotland that week - some beautiful, blurry sunsets.
In the face of God, who is bigger than the universe and smaller than a bosun it was a timely reminder. Our very existence, formed in temporal matter, shining bright, is a glint in the diamond of eternity. In this simple glimpse, is every rainbow and every sunset - a reminder and a covenant of love, from the very heart of the creator.
Lord I am stilled to silence in the arc of the rainbow.
The seamless change of colour through a prism of atmosphere. Light slowed down
Revealing itself
Becoming its component parts
Look closer
Every shade in every spectrum
Every wavelength these poor eyes can behold
Inspiring me to look beyond and within
Realising the infrared, the ultraviolet and all that lies between
All of this in a simple rainbow
A covenant in the moment
Of an everlasting love.