Daily Worship
Living in God's network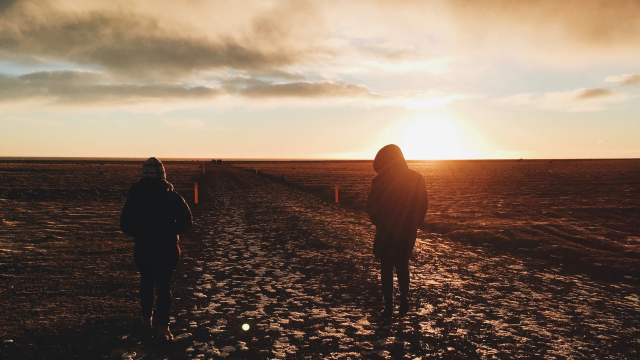 Romans 6: 1-11 (NRSVA)
1 What then are we to say? Should we continue in sin in order that grace may abound? 2 By no means! How can we who died to sin go on living in it? 3 Do you not know that all of us who have been baptized into Christ Jesus were baptized into his death? 4 Therefore we have been buried with him by baptism into death, so that, just as Christ was raised from the dead by the glory of the Father, so we too might walk in newness of life.

5 For if we have been united with him in a death like his, we will certainly be united with him in a resurrection like his. 6 We know that our old self was crucified with him so that the body of sin might be destroyed, and we might no longer be enslaved to sin. 7 For whoever has died is freed from sin. 8 But if we have died with Christ, we believe that we will also live with him. 9 We know that Christ, being raised from the dead, will never die again; death no longer has dominion over him. 10 The death he died, he died to sin, once for all; but the life he lives, he lives to God. 11 So you also must consider yourselves dead to sin and alive to God in Christ Jesus.
"What makes a good life?" asks Robert Waldinger during a 2016 TED Talk. How would you respond to this questions in light of recent constraints invading our livelihoods?
In 2020 it became evident: no amount of wealth would buy you that expensive holiday to Disneyland. Frontline workers, farmers, fishers, physicians and pharmacists turned into overnight celebrities. The Soccer stars and SUN sensations and accompanying lifestyles had become of little to no importance during this pandemic.
We are once again realising that the 'Good-Life' doesn't really have a lot to do with achievements, accumulating 'stuff' or becoming famous.
So then, what's the secret to a happy life?
Waldinger, of the 2016 TED talk, is part of a 75 year long research project known as 'The Harvard Study of Adult Development.' This venture began back in the mid 1940s with 724 men. These men were closely monitored (some still are!) and interviewed every two years having their mental and physical health examined.
Some men became entrepreneurs, some blue collar workers, some teachers and some ended up in prison. A very diverse group. The number one conclusion taken from this study is fascinating: "Good relationships keep us happier and healthier. Social connections are good for us."
People who are deeply connected to family and friends are happier, physically healthier and live longer. The good and happy life is built on good relationships.
Paul already knew this centuries ago. And takes it a step further in saying that we are connected, not only to one another, but to a living God who conquered death through the resurrection of Jesus. We are therefore fully alive in Christ and this enables us to connect with others.
Paul had achieved all the accolades any Jew could ever dream of (Philippians 3), but still, found himself unhappy. After his epiphany on the Damascus road, he realised that only 'connectedness' to God will satisfy his hunger for 'The-Good-life'.
Connectedness to God, and connectedness to others.
So, may we continue to value our relationships more than anything else.
PRAYER:
Your-life,
In exchange for the good-life,
So I can have meaningful-life,
Living beautifully to show others, Your-life.