Daily Worship
In Ancient Times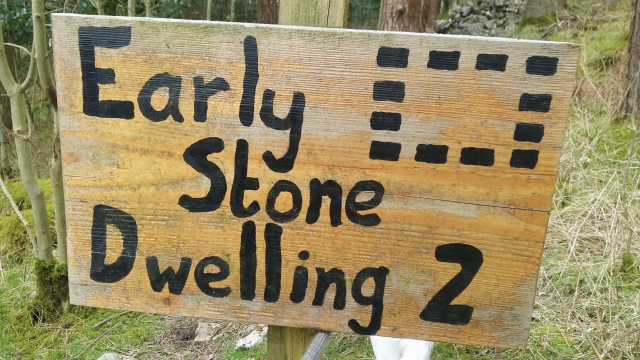 Isaiah 50: 4-9 (NRSVA)
4 The Lord God has given me
the tongue of a teacher,
that I may know how to sustain
the weary with a word.
Morning by morning he wakens—
wakens my ear
to listen as those who are taught.
5 The Lord God has opened my ear,
and I was not rebellious,
I did not turn backwards.
6 I gave my back to those who struck me,
and my cheeks to those who pulled out the beard;
I did not hide my face
from insult and spitting.

7 The Lord God helps me;
therefore I have not been disgraced;
therefore I have set my face like flint,
and I know that I shall not be put to shame;
8 he who vindicates me is near.
Who will contend with me?
Let us stand up together.
Who are my adversaries?
Let them confront me.
9 It is the Lord God who helps me;
who will declare me guilty?
All of them will wear out like a garment;
the moth will eat them up.
Hidden within the woodland of Scargill estate, where I live and work, are the remains of two ancient dwellings. Their stone walls are now knee height. The existing limestone terrace provides the floor. The enclosed small area encompasses a living space for a shepherd, looking out on good views, close to the river for water, and sheltered by trees. A recent archaeological survey dated the dwellings as early as the 1st century AD. They could have been in use at the time when Jesus walked by Lake Galilee or when he 'resolutely set his face to go to Jerusalem' (Luke 9:51) to place himself there for events leading up to his crucifixion.
These verses from Isaiah 50 speak of the Servant's close relationship with the 'Sovereign Lord', and can be said to point forward to what Jesus will endure in Jerusalem during the final week leading up to the Cross. Within the experience of all the violence in word and deed done to him Jesus remarkably still found time to bring words of comfort, care and hope to his mother, to his friend John and to the thief on the cross. Jesus' resolve to complete the task ahead of him did not harden his heart when testing came, rather his actions were all out of a heart of love for his friends, his enemies, and all of humanity.
Each week, people email in to Scargill their prayer requests for friends, family, situations and themselves. Often they are facing difficult challenges, including the serious illness and death of a loved one. It comforts them to know that the Community is praying alongside them. We hold each request before God and ask him to guide each situation, to comfort and to provide the grace and hope needed.
In our current challenges, walking beside others or in our own life, can we still serve others with love and trust God for the outcome?
PRAYER:
Jesus,
In my focus to complete:
the task;
the mission;
the 'to do' list for the day.
Keep me loving.
Keep me serving.
Keep me knowing I am loved by you.