Daily Worship
Horizons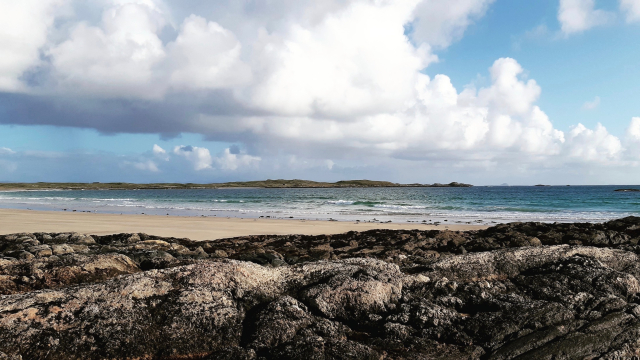 Psalm 65 (NIVUK)
1 Praise awaits you, our God, in Zion;
to you our vows will be fulfilled.
2 You who answer prayer,
to you all people will come.
3 When we were overwhelmed by sins,
you forgave our transgressions.
4 Blessed are those you choose
and bring near to live in your courts!
We are filled with the good things of your house,
of your holy temple.

5 You answer us with awesome and righteous deeds,
God our Saviour,
the hope of all the ends of the earth
and of the farthest seas,
6 who formed the mountains by your power,
having armed yourself with strength,
7 who stilled the roaring of the seas,
the roaring of their waves,
and the turmoil of the nations.
8 The whole earth is filled with awe at your wonders;
where morning dawns, where evening fades,
you call forth songs of joy.

9 You care for the land and water it;
you enrich it abundantly.
The streams of God are filled with water
to provide the people with corn,
for so you have ordained it.
10 You drench its furrows and level its ridges;
you soften it with showers and bless its crops.
11 You crown the year with your bounty,
and your carts overflow with abundance.
12 The grasslands of the wilderness overflow;
the hills are clothed with gladness.
13 The meadows are covered with flocks
and the valleys are mantled with corn;
they shout for joy and sing.
I have spent this past week on the tiny Hebridean Island of Coll, a wild, beautiful place with wonderful beaches — a place well suited to reflect on this week's theme of horizons.
Here on Coll, the horizon is either as distant as you can imagine, or as close as the neighbouring island… and even in the time and space it takes to walk along one of the long stretches of white Hebridean sand the horizon can change as you round a headland and other islands come into view.
If you can, look around where you are just now, what does the horizon look like?
Is your view interrupted?
Are you in the middle of a built-up area? Perhaps there are power cables or buildings…
Or maybe you're in the middle of nowhere, surrounded by mountains, trees or sea?
Perhaps your horizons are limited by being indoors… can you use your imagination?
The Psalmist speaks of God being the hope of all the ends of the earth and the farthest seas and of how everything on the earth isn't just in his care but is overflowing with abundance. Is this your experience today?
What might need to shift within you to enable you to see things this way?
Horizons though, aren't always physical, sometimes the limit of our sight is metaphorical… we see only as far as we want to or are able to…
Take a moment to look at your life just now…
What lies on your horizon?
Is everything plain sailing with a clear uninterrupted view, or are there obstacles? Mountains to climb, or valleys to navigate a way out of?
Is it a place of longing, regrets, hope or fear?
Give it to God…

Hope of the North,
Hope of the East,
Hope of the South,
Hope of the West,
And Hope of every degree in between,
Lift our gaze,
From all that interrupts our present view,
From all that bogs us down — fear, guilt, loss…
To the possibilities of a new horizon,
And the hope of life with you.
Amen.