Daily Worship
Generosity, trust and transformation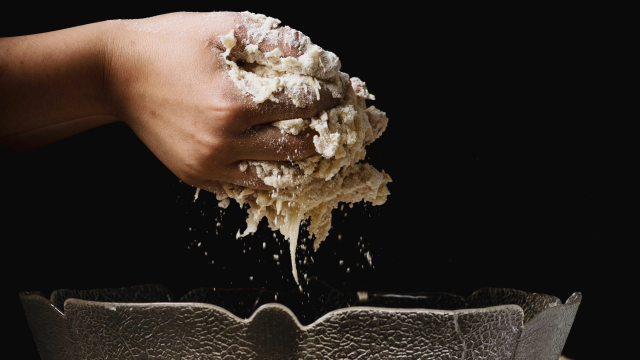 1 Kings 17: 7-16 (NRSVA)
7 But after a while the wadi dried up, because there was no rain in the land.

8 Then the word of the Lord came to him, saying, 9 'Go now to Zarephath, which belongs to Sidon, and live there; for I have commanded a widow there to feed you.' 10 So he set out and went to Zarephath. When he came to the gate of the town, a widow was there gathering sticks; he called to her and said, 'Bring me a little water in a vessel, so that I may drink.' 11 As she was going to bring it, he called to her and said, 'Bring me a morsel of bread in your hand.' 12 But she said, 'As the Lord your God lives, I have nothing baked, only a handful of meal in a jar, and a little oil in a jug; I am now gathering a couple of sticks, so that I may go home and prepare it for myself and my son, that we may eat it, and die.' 13 Elijah said to her, 'Do not be afraid; go and do as you have said; but first make me a little cake of it and bring it to me, and afterwards make something for yourself and your son. 14 For thus says the Lord the God of Israel: The jar of meal will not be emptied and the jug of oil will not fail until the day that the Lord sends rain on the earth.' 15 She went and did as Elijah said, so that she as well as he and her household ate for many days. 16 The jar of meal was not emptied, neither did the jug of oil fail, according to the word of the Lord that he spoke by Elijah.
The most common meal requested for death row inmates is fried chicken — I think mine would contain at least a bread I have seen only in Northern Ireland, "Veda" – it's a dark malted bread that should be toasted only on one side and then butter spread so thickly that teeth marks are visible! The widow of Zarephath, before she was going to die, would eat bread — perhaps she would have preferred a hearty lamb and lentil stew — but all she had was meal and oil.
The story tells us that Elijah had been sustained by God with bread and meat twice a day, and when the Wadi Cherith dried up, he was told by God to go Zarephath in the region of Sidon — that's about 85 miles away. I'm guessing he was hungry and thirsty when he reached the village where the woman was.
I can picture the scene — the prophet may not have been known to her, and this poor woman could easily have told him to get lost. Even though Elijah sees that she has almost nothing, he persists in doing as God says and asks her for a morsel of bread.
You see, Elijah has been promised plenty by God! The contradiction is the source of God's action! In the midst of desolation, when the widow fears not only for herself but her son, her acceptance of her imminent death is transformed. Elijah's crazy request to invite this poor widow to join him in a new way of living, namely trusting God for even the basics in life is, at first glance ridiculous. However, what she can't see now, what appears to be hidden now, soon will come into plain sight and the woman's generosity will be rewarded.
Our own reality may appear to be and feel like utter desolation. But I urge you to keep trusting the God of Elijah, because this God not only provides for all our needs, but also transforms life into death (read the full story). This God holds out His hand and invites us to live in His reality with all the seeming contradictions and paradoxes that ultimately will reveal God's generous and loving heart.
PRAYER:
Silence is one of the languages of God, please sit in silence and breathe in and out, slowly, intentionally and repeat the following phrase until your heartbeat slows down and you are focussing on God: "The Lord is here, His Spirit is in me." Don't ask for anything, don't tell God anything — He already knows! Simply be silent.