Daily Worship
'Follow me!' … with wide-open ears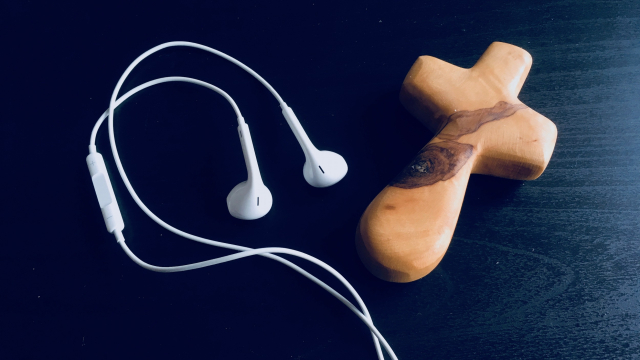 John 10: 22-27 NRSVA
22 At that time the festival of the Dedication took place in Jerusalem. It was winter, 23 and Jesus was walking in the temple, in the portico of Solomon. 24 So the Jews gathered around him and said to him, 'How long will you keep us in suspense? If you are the Messiah, tell us plainly.' 25 Jesus answered, 'I have told you, and you do not believe. The works that I do in my Father's name testify to me; 26 but you do not believe, because you do not belong to my sheep. 27 My sheep hear my voice. I know them, and they follow me.
'My sheep hear my voice, and I know them, and they follow me' (verse 27).
Jesus' claim to be 'the good shepherd' was made at the Feast of the Dedication (v22). This feast was held annually to commemorate the re-dedication of the Jerusalem temple after its restoration under Judas Maccabeus. During the feast, as part of the liturgy, Ezekiel 34 was read, a passage in which God expresses his anger at those he describes as the 'shepherds' of his flock (the leaders of his people). Far from fulfilling faithfully their leadership role, they were acting more like wolves and thieves, failing to care for the people and abusing their position and privilege. It was in that context that God promised to come himself to be the people's 'good shepherd' (see Ezekiel 34:11 onwards).
Among Jesus' hearers at the feast were members of the current religious and political leadership. They were proving to be as selfish and untrustworthy as those of Ezekiel's time. Too many of the 'ordinary' people were also culpable in meekly accepting their abuses and tyranny. Jesus knew that they were soon to reject him and his mission utterly.
As disciples of Jesus today, the passage warns us against giving unquestioning loyalty to the many 'false shepherds' of our modern age, with their insistent, siren voices. Such loyalty is due only to the good shepherd who gave his all for us. Assailed by a babel of voices calling for our attention and allegiance, it remains possible to hear the voice of Jesus himself. He offers himself as our true king and in attuning our ears to his call and invitation we find ourselves coming under 'his personal influence and guidance.' As we respond in faith and love, 'his word will become the dominant force in shaping (our) life and destiny.' (Ronald S Wallace)
There is no better way to live!
Prayer:
Speaking God
Through the cacophony of seductive voices, let us today hear our Shepherd's call and respond in joyful obedience. May his word go on forming us as his devoted followers. Amen.