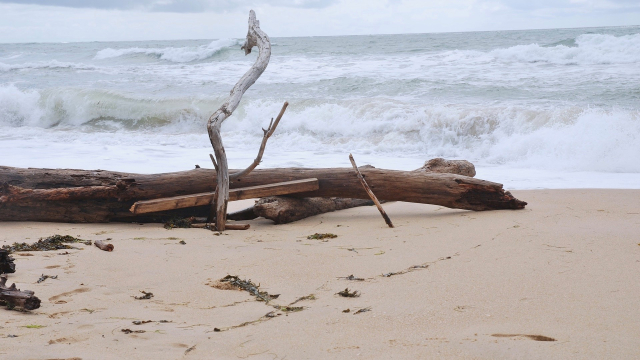 Drifting into shore
This is the tawdry little tale about a great man who did a (very) bad thing. Captivated by the beauty of another's wife David uses his power and influence to entice her into bed, makes her pregnant and – for good measure and never one to do things by halves – sends her one time husband out to be killed.
This from a man of whom it is said "David walked with God".
Tough one isn't it?
So what do we do when we are overtaken by circumstance, or lust, or anger, or jealousy or pride and we just see the end game? Our target. We evolved as predators, just how far have we come?
We are flawed creatures and we make mistakes, sometimes serially and terribly.
And that's what grace is about.
It is recognising just how weak we are. Just how easy it would be to make the wrong decision and set a harmful chain of events in motion. It is so very easy to pontificate and as Christians we can be so guilty of saying "I would never do that", "You'd never see me…" in a cold judgmental voice. Really? And what makes you so strong? The truth is until we are in that very moment, in that very circumstance we can't know. All we can do is trust in grace and then forgiveness.
So I don't judge David here, I've never been a King, I've never ordered countless men into battle such that a human being might come to be seen as a chattel, in a moment of weakness, perhaps fulfilling some deep need from something broken within him. I'll never know.
What I do know is that he was frail and flawed like all of us and that, in the end, God still loved him and had forgiven him before he had even begun.
So we probably need to set aside notions of pride and stability and rely more on the God who made us wonderfully and fearfully. That's the rock we settle on, but, in the meantime this song from Travis reminds who we can be:
Travis 'Driftwood':
"Drifting now forever
And forever more
Until you reach your shore
You're driftwood floating underwater
Breaking into pieces, pieces, pieces
Just driftwood, hollow and of no use
Waterfalls will find you, bind you, grind you
And you really didn't think it would happen
But it really is the end of the line
So I'm sorry that you've turned to driftwood
But you've been drifting for a long, long time"
And note the operative phrase – "until you reach your shore". That where we're headed brothers and sisters. Trust in grace and forgiveness for the journey.
Lord, let me be humble
Lord, let me be realise until I reach your shore
I'm just driftwood.
I have agency but agency is a poor and flawed thing.
Let my agency be bathed in your light.
Guide my hands, my heart, my desires.
For as I am of you, let me be with you.
Thank you for grace when I stumble
Thank you for your everlasting love and forgiveness when I fall.
Because only you can mend this broken vessel and repair this broken heart.
2 Samuel 11: 1-15
1 In the spring of the year, the time when kings go out to battle, David sent Joab with his officers and all Israel with him; they ravaged the Ammonites, and besieged Rabbah. But David remained at Jerusalem.
2 It happened, late one afternoon, when David rose from his couch and was walking about on the roof of the king's house, that he saw from the roof a woman bathing; the woman was very beautiful. 3 David sent someone to inquire about the woman. It was reported, 'This is Bathsheba daughter of Eliam, the wife of Uriah the Hittite.' 4 So David sent messengers to fetch her, and she came to him, and he lay with her. (Now she was purifying herself after her period.) Then she returned to her house. 5 The woman conceived; and she sent and told David, 'I am pregnant.'
6 So David sent word to Joab, 'Send me Uriah the Hittite.' And Joab sent Uriah to David. 7 When Uriah came to him, David asked how Joab and the people fared, and how the war was going. 8 Then David said to Uriah, 'Go down to your house, and wash your feet.' Uriah went out of the king's house, and there followed him a present from the king. 9 But Uriah slept at the entrance of the king's house with all the servants of his lord, and did not go down to his house. 10 When they told David, 'Uriah did not go down to his house', David said to Uriah, 'You have just come from a journey. Why did you not go down to your house?' 11 Uriah said to David, 'The ark and Israel and Judah remain in booths; and my lord Joab and the servants of my lord are camping in the open field; shall I then go to my house, to eat and to drink, and to lie with my wife? As you live, and as your soul lives, I will not do such a thing.' 12 Then David said to Uriah, 'Remain here today also, and tomorrow I will send you back.' So Uriah remained in Jerusalem that day. On the next day, 13 David invited him to eat and drink in his presence and made him drunk; and in the evening he went out to lie on his couch with the servants of his lord, but he did not go down to his house.
14 In the morning David wrote a letter to Joab, and sent it by the hand of Uriah. 15 In the letter he wrote, 'Set Uriah in the forefront of the hardest fighting, and then draw back from him, so that he may be struck down and die.'