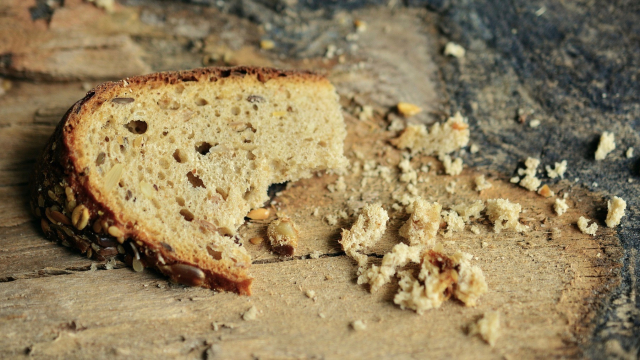 Crumbs from the table
In today's Gospel reading John the apostle is recalling an incident in the life of Jesus where Jesus invites those around him to face up to the truth regarding his identity. Jesus shocks his listeners. He tells them that he himself is literally the bread of life. As manna came down from heaven, so likewise he has come from God and those who believe in him will be sustained for eternity. Jesus is the life giver.
Yesterday we were reminded that we who call ourselves Christians are the body of Christ in the world today. We are called to be the life givers. We have a responsibility to share Christ, the bread of life, with a spiritually hungry world. And the only face of Christ some will see will be shaped by the way we live.
In the U2 song 'Crumbs From Your Table' Bono uses this phrase to challenge the church to be less judgemental towards those who are in need of compassion and understanding, when sharing the bread of life. He was particularly thinking on attitudes that were around at the turn of the last century towards those with AIDS.
The phrase, 'crumbs from your table', reflects the reply a gentile woman gave to Jesus, when Jesus was highlighting the derogatory attitude many of his fellow Jews at that time had towards a woman of her ethnic background. We are reminded that Jesus departed from the perceived theological position of the day and gave God's blessing and healing to a so called outsider. Thus teaching the church that we must never despise those who come in search of crumbs, even so called outsiders. The Casting Crowns song, 'Jesus, Friend of Sinners' is a prayer of confession asking forgiveness for the silos too often we place ourselves and our churches in.
Prayer:
"Jesus, friend of sinners, we have strayed so far away
We cut down people in your name but the sword was never ours to swing
Jesus, friend of sinners, the truth's become so hard to see
The world is on their way to You but they're tripping over me
Always looking around but never looking up I'm so double minded
A plank eyed saint with dirty hands and a heart divided
Oh Jesus, friend of sinners
Open our eyes to the world at the end of our pointing fingers
Let our hearts be led by mercy
Help us reach with open hearts and open doors
Oh Jesus, friend of sinners, break our hearts for what breaks yours"
- Songwriters: John Mark Hall / Matthew West
John 6: 25-35
25 When they found him on the other side of the lake, they said to him, 'Rabbi, when did you come here?' 26 Jesus answered them, 'Very truly, I tell you, you are looking for me, not because you saw signs, but because you ate your fill of the loaves. 27 Do not work for the food that perishes, but for the food that endures for eternal life, which the Son of Man will give you. For it is on him that God the Father has set his seal.' 28 Then they said to him, 'What must we do to perform the works of God?' 29 Jesus answered them, 'This is the work of God, that you believe in him whom he has sent.' 30 So they said to him, 'What sign are you going to give us then, so that we may see it and believe you? What work are you performing? 31 Our ancestors ate the manna in the wilderness; as it is written, "He gave them bread from heaven to eat."' 32 Then Jesus said to them, 'Very truly, I tell you, it was not Moses who gave you the bread from heaven, but it is my Father who gives you the true bread from heaven. 33 For the bread of God is that which comes down from heaven and gives life to the world.' 34 They said to him, 'Sir, give us this bread always.'
35 Jesus said to them, 'I am the bread of life. Whoever comes to me will never be hungry, and whoever believes in me will never be thirsty.