Daily Worship
Creative care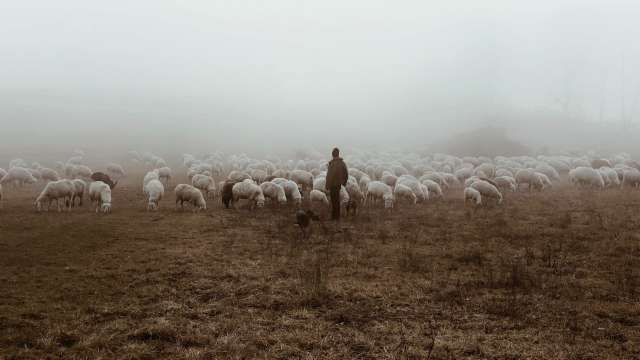 Psalm 23 (NRSVA)
1 The Lord is my shepherd, I shall not want.
2 He makes me lie down in green pastures;
he leads me beside still waters;
3 he restores my soul.
He leads me in right paths
for his name's sake.

4 Even though I walk through the darkest valley,
I fear no evil;
for you are with me;
your rod and your staff—
they comfort me.

5 You prepare a table before me
in the presence of my enemies;
you anoint my head with oil;
my cup overflows.
6 Surely goodness and mercy shall follow me
all the days of my life,
and I shall dwell in the house of the Lord
my whole life long.
My son works on a farm and has spent the past couple of months lambing. We all will have seen photos of beautiful wee lambs frolicking happily in the field, but life behind the scenes — the real life of a shepherd — is stressful. Each day my son has had to fight to save lives. He has had to deal with numerous difficult births when either the ewe or the lamb has nearly died. Times when a ewe has rejected her lamb. Times when a ewe is an inattentive mother. My son has had to be resourceful each time to save lives
My son likes to think he is tough guy, but he isn't really. He wants each of these creatures to live. He wants each of them to have the best life it can under his care. So, he goes without sleep to feed and comfort the orphan lambs, these wee lambs who follow him about bleating, for he is now their mother. Taking the extra time, they need to grow to full health.
And now that lambing has finished his job isn't any easier. In addition to his woolly orphan babies he still has to feed and care for the other sheep, making sure they have enough to eat and the fields are safe. Insuring they are all free from disease and injury. The sheep for their part are oblivious to all his efforts, though they would soon notice if he wasn't there to care for them!
This COVID19 pandemic is a stressful time for the church but God is with us. His rod and his staff are protecting and comforting us. He has anointed our heads with oil and thanks to Jesus there is a place prepared and waiting for us.
PRAYER:
Risen Jesus,
You are the Good Shepherd who knows all his sheep,
Those within the flock and
Those who think they are lost.
Thank you for the sacrifice you made to save our lives.
Even though we don't always acknowledge it, thank you for protecting us, and guiding us through the dark valleys.
Amen.
INVITATION: Today spend a relaxing few minutes massaging your own hands or feet with some cream or fragrant oil and reflect on the ways God has been working in your life recently. If you feel comfortable share one of God's blessings in your life in the comments below.