Daily Worship
Being free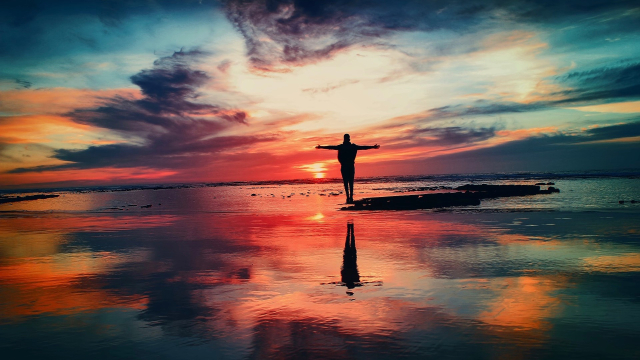 Luke 21: 20-28
20 'When you see Jerusalem surrounded by armies, then know that its desolation has come near. 21 Then those in Judea must flee to the mountains, and those inside the city must leave it, and those out in the country must not enter it; 22 for these are days of vengeance, as a fulfilment of all that is written. 23 Woe to those who are pregnant and to those who are nursing infants in those days! For there will be great distress on the earth and wrath against this people; 24 they will fall by the edge of the sword and be taken away as captives among all nations; and Jerusalem will be trampled on by the Gentiles, until the times of the Gentiles are fulfilled.

25 'There will be signs in the sun, the moon, and the stars, and on the earth distress among nations confused by the roaring of the sea and the waves. 26 People will faint from fear and foreboding of what is coming upon the world, for the powers of the heavens will be shaken. 27 Then they will see "the Son of Man coming in a cloud" with power and great glory. 28 Now when these things begin to take place, stand up and raise your heads, because your redemption is drawing near.'
'True Confessions' is a 1981 film starring Robert De Niro as an ambitious young priest who seems destined to great things. Things go wrong, however. He is sucked into questionable financial dealings and is associated with men who are implicated in a murder. In the end he is in charge of a remote desert parish but is convinced that all his misfortunes have been his salvation. He now knows what it is to really be a priest.
Redemption for a slave was the moment of his release, a price having been paid for his freedom. The first Christians saw Jesus' death as a redemption, the price paid for sin. But they also understood that redemption has to be lived. It called upon them to live as people freed from sin.
We encounter challenges that threaten our freedom and need to be resisted and overcome. The young priest saw the attraction of status, power and money. He came to see his redemption as being free from all of this.
This looks forward to the Day of the Lord's coming again when we will be free from everything that held us back in the life of discipleship. We often think of this as freedom from suffering but what is more important is that our struggle with sin will be behind us. We will be a people 'ransomed, healed, restored, forgiven.'