Daily Worship -
A Dollar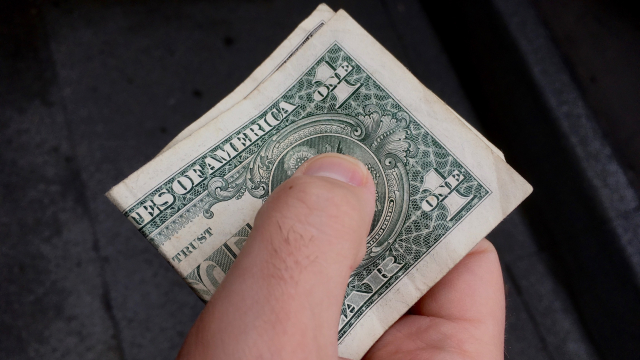 John 6: 35, 41-51
35 Jesus said to them, 'I am the bread of life. Whoever comes to me will never be hungry, and whoever believes in me will never be thirsty.

41 Then the Jews began to complain about him because he said, 'I am the bread that came down from heaven.' 42 They were saying, 'Is not this Jesus, the son of Joseph, whose father and mother we know? How can he now say, "I have come down from heaven"?' 43 Jesus answered them, 'Do not complain among yourselves. 44 No one can come to me unless drawn by the Father who sent me; and I will raise that person up on the last day. 45 It is written in the prophets, "And they shall all be taught by God." Everyone who has heard and learned from the Father comes to me. 46 Not that anyone has seen the Father except the one who is from God; he has seen the Father. 47 Very truly, I tell you, whoever believes has eternal life. 48 I am the bread of life. 49 Your ancestors ate the manna in the wilderness, and they died. 50 This is the bread that comes down from heaven, so that one may eat of it and not die. 51 I am the living bread that came down from heaven. Whoever eats of this bread will live for ever; and the bread that I will give for the life of the world is my flesh.'
In this reading Jesus describes himself as "the bread of life" but many of the bystanders are sceptical - they are confronting God incarnate, and they're thinking, "Aye right." We often say we want to see things with our own eyes in order to believe but we forget how we can miss what is right under our nose.
In Kendrick Lamar's 'How Much A Dollar Cost' (warning - the lyrics contain strong language), the mercurial rapper tells a story about being confronted by someone asking for a dollar. He spends the song cynically doubting the man. At one point he says tellingly that when he had less money himself he would have been more likely to give the man the benefit of the doubt - but now that's he got more money he's become more guarded and jaded.
Lamar's vocal dexterity and his densely packed lyrics give a claustrophobic immediacy to the song, scaling up and down the oscillating doubt and hostility of his protagonist, apparently Kendrick himself, as he scrabbles against his own baggage and prejudices.
In a final twist Kendrick reveals that he has in fact been looking in the face of God all along. He has been rejecting God and so the answer to his question - "How much a dollar cost?" it transpires, is his soul. It's a gripping and vulnerable meditation on wealth, arrogance and hubris.
How many of us have done just as those in the reading have done, just as Lamar has done, and looked straight into the eyes of God and mocked and jeered?
Dear God,
Thank you that you seek us out
even when we flinch or squint
or roll our eyes,
averting our gaze
from the eyes that set the stars in motion.
Amen.