Daily Worship
There's a woman in the Temple!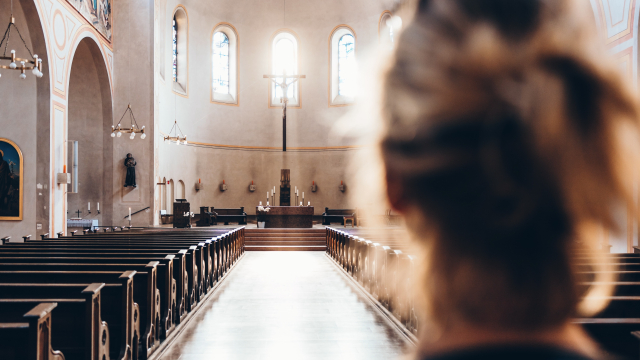 1 Samuel 1: 9-18 (NRSVA)
9 After they had eaten and drunk at Shiloh, Hannah rose and presented herself before the Lord. Now Eli the priest was sitting on the seat beside the doorpost of the temple of the Lord. 10 She was deeply distressed and prayed to the Lord, and wept bitterly. 11 She made this vow: 'O Lord of hosts, if only you will look on the misery of your servant, and remember me, and not forget your servant, but will give to your servant a male child, then I will set him before you as a nazirite until the day of his death. He shall drink neither wine nor intoxicants, and no razor shall touch his head.'

12 As she continued praying before the Lord, Eli observed her mouth. 13 Hannah was praying silently; only her lips moved, but her voice was not heard; therefore Eli thought she was drunk. 14 So Eli said to her, 'How long will you make a drunken spectacle of yourself? Put away your wine.' 15 But Hannah answered, 'No, my lord, I am a woman deeply troubled; I have drunk neither wine nor strong drink, but I have been pouring out my soul before the Lord. 16 Do not regard your servant as a worthless woman, for I have been speaking out of my great anxiety and vexation all this time.' 17 Then Eli answered, 'Go in peace; the God of Israel grant the petition you have made to him.' 18 And she said, 'Let your servant find favour in your sight.' Then the woman went to her quarters, ate and drank with her husband, and her countenance was sad no longer.
The role of women in places and spaces of faith has always been contentious. It still is. Then again, so is ethnicity, skin colour, sexual orientation, age, status, disability, mental illness…the list goes on. Each of us, whoever we are, make assumptions based on what we (think we) see, particularly around some of these characteristics. When we catch ourselves doing so, let us instead see a holy invitation to listen deeply to someone else's experiences. In doing so, may we be blessed and offer a blessing also.
PRAYER:
God of all creation,
your infinite glory is hinted at
in the vastness of the cosmos
and the variety of life and people on our planet;
may your Spirit open our hearts and give us curious minds
so when we are surprised by—or uncertain of—your presence,
we might see it as opportunities to grow in wisdom.
May we also have the humility to acknowledge that we can be wrong,
and that there is blessing in looking again,
for ourselves and for those around us.
So be it, good Lord, AMEN.