Daily Worship
Straining every sinew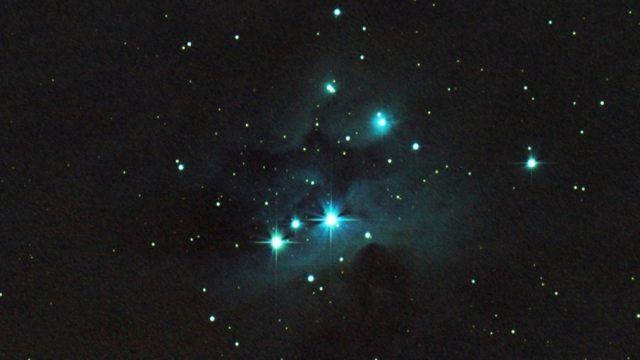 Revelation 22: 16-17 (NIVUK)
16 'I, Jesus, have sent my angel to give you this testimony for the churches. I am the Root and the Offspring of David, and the bright Morning Star.'

17 The Spirit and the bride say, 'Come!' And let the one who hears say, 'Come!' Let the one who is thirsty come; and let the one who wishes take the free gift of the water of life.
What can you see in the picture above? It is a photograph of stars, light and dust in the sky, but pause and look and perhaps your mind will find the 'running man'. It is of course a mental construct because there is no-one up there running about but the shape has a familiarity to it – it looks so much like an athlete stretching towards the finish line, exerting every effort, straining every sinew to win the prize.
It was that great enthusiastic follower of Jesus called Paul who encouraged us to 'run the race'. His words were meant to inspire and to urge men and women on to greater things. He wrote to his friends in Philippi, "I press on toward the goal for the prize of the upward call of God in Christ Jesus." (Philippians 3:14.)
Paul had heard the invitation to 'Come', to get involved and to labour towards a fuller knowledge of the ultimate accolade which was knowing the life, death, and new life of Jesus, which is 'life in all its fullness'. This is a prize worth having, a prize worth giving our all for – we have been issued with the invitation – 'Come'. It is of course our decision whether we do.
PRAYER:
God of life and God of eternity, the scriptures witness that you have reached out to us.
You have beckoned us to draw close to know good things, even eternal things.
Lord it all seems too good to be true, that you would want 'us', that you would want 'me' to come
Am I worthy, really lord?
Again that word 'Come'