Daily Worship
Shelter for everyone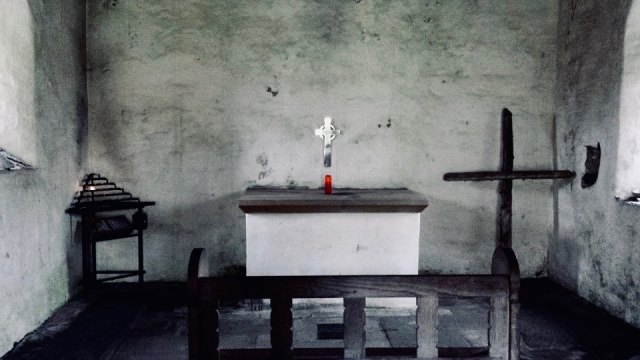 Ezekiel 17: 22-23 (NRSVA)
22 Thus says the Lord God:

I myself will take a sprig
from the lofty top of a cedar;
I will set it out.
I will break off a tender one
from the topmost of its young twigs;
I myself will plant it
on a high and lofty mountain.
23 On the mountain height of Israel
I will plant it,
in order that it may produce boughs and bear fruit,
and become a noble cedar.
Under it every kind of bird will live;
in the shade of its branches will nest
winged creatures of every kind.
There is a wonderful old tale about a traveler who uses a magic stone in his pocket to make some soup. The stone is used as a base in the boiling water that then encourages starving villagers to give the little they have to make a pot of soup that feeds them more than their meagre individual food stores ever would. (If you don't know the story of Stone Soup I encourage you to go and look it up).
The same is true in the journeys that lead to bothies and the journeys that lead us through life. Once you are in the bothy for the night you become a community with whoever else arrives, you share a drink and a laugh, you share the fireside and stories that spill form the flames. The night is better for all of you because the other is there.
The same is true of the journey of faith. This is not something to do alone. The journey of faith is something that gives to all those you encounter, but also is filled by them too. God calls you to shelter in him and calls you to be ready to journey with each other, feasting together on the spiritual nourishment that God provides.
However, this is not simply about spiritual things, the shelter desired is both spiritual and temporal, of heaven and earth, and on all sides completely wrapped up in the divine. All are to be nourished, our neighbours near and far, with sharing of God but also with sharing of food, medicine and anything else that shows we know what it is to be caught in a storm.
In the journey of life and faith, as you travel from bothy to bothy, and weather the storms, remember the point is the journey and you share it with all those you encounter on the way.
PRAYER:
God,
Help me to remember that in you I am part of a community.
Help me to look to you and play my part here on earth, knowing it is my place not only to receive but to give more in return.
God,
Help me keep on the path, knowing that I have to be ready to give and share shelter with everyone.
Amen.
Lent Legacy 2021 Action
The Transforming Shelter: Think about your local area/town/city and reflect on the people living around who could be struggling or suffering, who perhaps can't rely on their shelter or accommodation. Commit to pray for your neighbourhood and those same people every day this week.