Daily Worship
Sharp breaths of guilt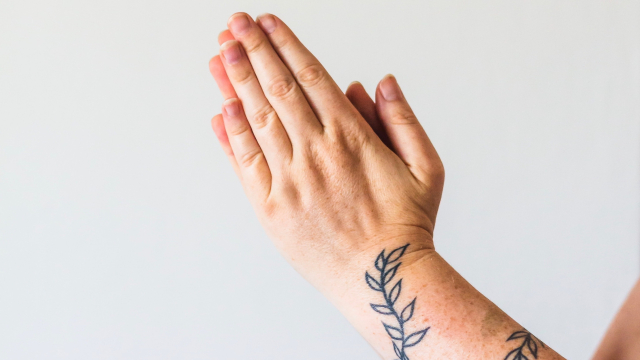 Psalm 32 (NRSVA)
1 Happy are those whose transgression is forgiven,
whose sin is covered.
2 Happy are those to whom the Lord imputes no iniquity,
and in whose spirit there is no deceit.

3 While I kept silence, my body wasted away
through my groaning all day long.
4 For day and night your hand was heavy upon me;
my strength was dried up as by the heat of summer.Selah

5 Then I acknowledged my sin to you,
and I did not hide my iniquity;
I said, 'I will confess my transgressions to the Lord',
and you forgave the guilt of my sin.Selah

6 Therefore let all who are faithful
offer prayer to you;
at a time of distress, the rush of mighty waters
shall not reach them.
7 You are a hiding-place for me;
you preserve me from trouble;
you surround me with glad cries of deliverance.Selah

8 I will instruct you and teach you the way you should go;
I will counsel you with my eye upon you.
9 Do not be like a horse or a mule, without understanding,
whose temper must be curbed with bit and bridle,
else it will not stay near you.

10 Many are the torments of the wicked,
but steadfast love surrounds those who trust in the Lord.
11 Be glad in the Lord and rejoice, O righteous,
and shout for joy, all you upright in heart.
There was a period in my life when I had a lot of debt. I liked to live large and I lived on credit to pay for my extravagant lifestyle. But no one knew this. I kept it a secret from all my loved ones. I kept spending and when I couldn't pay it back the pressure started to mount. I pretended that everything was fine, but the pressure started to affect my health. For you see I have asthma and one of my triggers is stress. As the debt got higher the tighter my chest became, my breathing constricted. I was choking. All I could consume were short, sharp breaths of guilt and shame.
And just when I thought it was going to overwhelm and drown me, I prayed for help and the Lord sent me a lifeline. I was forced to admit my debt to my parents. Mercifully they didn't judge me, they just loved me and helped me to sort out the mess I had gotten myself into. I could breath normally again.
PRAYER
Almighty God,
Thank you for sending your son Jesus who through his life and death forgives our sins and reconciles us to you. Help me Lord out of the debt I am in. You know the problems I am facing right now. Throw me a lifeline and show me a way out of this situation so that I can breathe easy and live in freedom. I ask this in Jesus name, Amen.
Lent Legacy 2021 Action
The Transforming Breath: Each morning this week spend 5 minutes mindful of your breath, perhaps breathing slowly in and out. As you do consider the day ahead and think of all the places and situations your breath is going to take you today. You may wish to say a short prayer offering the upcoming day to God.