Daily Worship
See from his head, his hands, his feet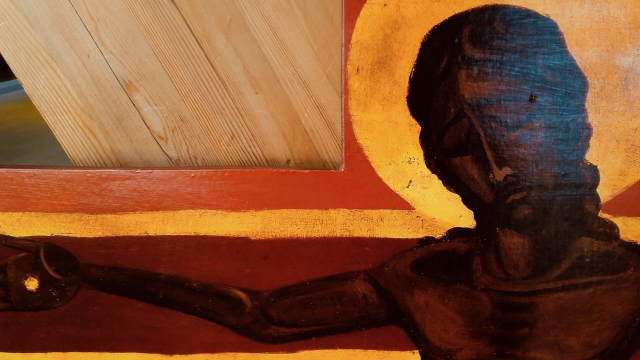 Hebrews 2: 10-18 (NRSVA)
10 It was fitting that God, for whom and through whom all things exist, in bringing many children to glory, should make the pioneer of their salvation perfect through sufferings. 11 For the one who sanctifies and those who are sanctified all have one Father. For this reason Jesus is not ashamed to call them brothers and sisters, 12 saying,

'I will proclaim your name to my brothers and sisters,
in the midst of the congregation I will praise you.'

13 And again,

'I will put my trust in him.'

And again,

'Here am I and the children whom God has given me.'

14 Since, therefore, the children share flesh and blood, he himself likewise shared the same things, so that through death he might destroy the one who has the power of death, that is, the devil, 15 and free those who all their lives were held in slavery by the fear of death. 16 For it is clear that he did not come to help angels, but the descendants of Abraham. 17 Therefore he had to become like his brothers and sisters in every respect, so that he might be a merciful and faithful high priest in the service of God, to make a sacrifice of atonement for the sins of the people. 18 Because he himself was tested by what he suffered, he is able to help those who are being tested.
An icon of the crucified Christ stands within the Scargill Chapel. The original image is at the Taizé community in France. It reminds us that at the heart of our faith we have an embodied Saviour who received physical blows and was nailed to a cross to bring us home to God.
The Scargill Community welcomes guests who come in all seasons of the heart. Many of them are broken, questioning and grieving, seeking refuge in this home of ours. We try to listen well and allow our guests to 'Tell it as it is…'
On the icon, the points of the wounds on the figures of Christ are painted in gold. It is as if the glory of heaven shines through those points of pain.
I grew up in a plainly decorated church: 'hessian'ed walls; parquet floor; wooden chairs; a simple wood cross suspended from the ceiling; the Sunday flower display providing a point of colour. Yet, this icon of the golden wounded Christ has brought me hope, reminding me in days of my own deep wounding that Jesus knows the pain of rejection, violence, hate, and of being misunderstood.
'When I survey the wondrous cross', a hymn by Isaac Watts, calls us to look at the embodied crucified Jesus to see the sorrow and love flow mingling down from 'his head, his hands, his feet'. Will I offer back to Him 'my life, my all'?
PRAYER:
By Your Holy wounds
were You known in the Upper Room.
Your Resurrection body carries these marks of love.
Our scars (within, without), a written history of our lives.
Our body, by the grace of God, is healed to life once more
as we call for help
from You, and through others.
So, in time,
set free by Jesus' cross,
my pain does not define my future
nor become a wielded blade
against myself and others.
Wounded Jesus,
Healer, Friend,
take upon yourself
the sin done to me.
Break the bonds,
set me free
and bring forgiveness in.
Let me choose to see
Your broken body
holds the key
to life.