Daily Worship
The Rhythm of Rebellion and Redemption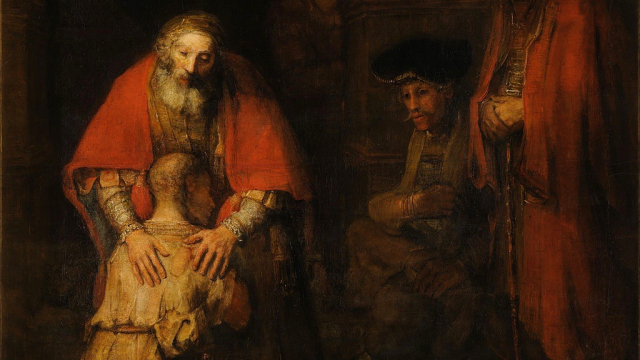 Luke 15: 11-30
11 Then Jesus said, "There was a man who had two sons. 12 The younger of them said to his father, 'Father, give me the share of the property that will belong to me.' So he divided his property between them. 13 A few days later the younger son gathered all he had and traveled to a distant country, and there he squandered his property in dissolute living. 14 When he had spent everything, a severe famine took place throughout that country, and he began to be in need. 15 So he went and hired himself out to one of the citizens of that country, who sent him to his fields to feed the pigs. 16 He would gladly have filled himself with the pods that the pigs were eating; and no one gave him anything. 17 But when he came to himself he said, 'How many of my father's hired hands have bread enough and to spare, but here I am dying of hunger! 18 I will get up and go to my father, and I will say to him, "Father, I have sinned against heaven and before you; 19 I am no longer worthy to be called your son; treat me like one of your hired hands."' 20 So he set off and went to his father. But while he was still far off, his father saw him and was filled with compassion; he ran and put his arms around him and kissed him. 21 Then the son said to him, 'Father, I have sinned against heaven and before you; I am no longer worthy to be called your son.' 22 But the father said to his slaves, 'Quickly, bring out a robe—the best one—and put it on him; put a ring on his finger and sandals on his feet. 23 And get the fatted calf and kill it, and let us eat and celebrate; 24 for this son of mine was dead and is alive again; he was lost and is found!' And they began to celebrate.

25 "Now his elder son was in the field; and when he came and approached the house, he heard music and dancing. 26 He called one of the slaves and asked what was going on. 27 He replied, 'Your brother has come, and your father has killed the fatted calf, because he has got him back safe and sound.' 28 Then he became angry and refused to go in. His father came out and began to plead with him. 29 But he answered his father, 'Listen! For all these years I have been working like a slave for you, and I have never disobeyed your command; yet you have never given me even a young goat so that I might celebrate with my friends. 30 But when this son of yours came back, who has devoured your property with prostitutes, you killed the fatted calf for him!'
The rhythm of our rebellion and God's redemption is told beautifully in the story that Jesus told about the return of the prodigal son.
In the telling of the story Jesus reveals the heart of God reaching out to his rebel children. Heaven touching earth uncovers a story of grace and compassion. Forgiveness is at the heart of the message.
The dutch artist Rembrandt in his old age, painted the story for the second time. He composed the composition in such a way that the onlooker is invited to see themselves as the prodigal child broken and abused, returning home to the warm embrace of the father's heart. One hand speaking of the comfort of a caring mother the other of a strong father embracing his son.
Looking more closely at Rembrandt's painting there is a further question posed. How do we respond to our own prodigals? Do you express the compassion of the father or the distain of the elder brother? Do we have the courage to make the journey back home to the father ourselves?
You wake up one morning
Sick in your stomach
Looking for something
You lost years ago
How did it happen, you ask yourself?
Then you remember
A spiritual burglar
Robbed you of your faith
You gave it up without a fight
A long long time ago
So much kindness lost
Replaced by what?
Cynicism and the smart comment
Yet even in the place of rebellion
You've never been comfortable
It's that still small voice again
That has never left you
The feeling that tells you
You were made for more than this
You've never belonged here
What are you doing in this place?
And in the confusion of your head
Once more you hear the voice
Calling you by name
'Come home
It's not too late
Supper is on the table'
Lent Legacy 2021 Action
Day Sixteen
Next time you make soup, keep an portion to give away.
Alternative - take someone out for lunch